But firm says projects operating with 'significantly' reduced workforce
Multiplex has said eight of its sites including the 22 Bishopsgate tower in the City of London will have reopened by next week – but all with a vastly reduced workforce in place.
The firm was the first major contractor to shut down its sites, with chief operating officer Callum Tuckett telling its 900 staff on the evening Boris Johnson put the country into lockdown three weeks ago that it was closing down jobs because it was "the best and most appropriate action" to take.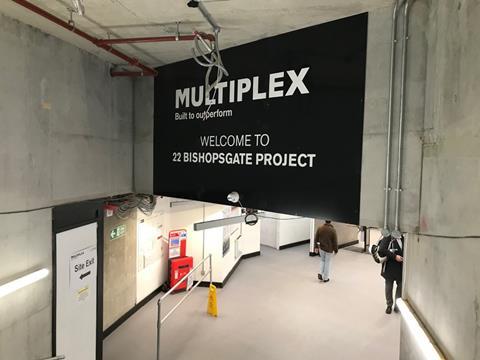 The contractor said three sites are already carrying out limited and essential works with five more opening by next Monday.
In a statement, Multiplex said: "In each project team has worked collaboratively with their respective clients and supply chain to assess whether and how limited and essential works should be planned and recommenced. The duty of care we have to all those who work on our sites remains paramount and is in accordance with the Health and Safety legislative framework. We are also considering regularly updated guidance from Public Health England, the Health and Safety Executive, and the Construction Leadership Council's Site Operating Procedures.
"These limited works will only recommence on sites where it is possible to do so safely, based on close scrutiny of all relevant information by Multiplex's senior team and following further consultation with our clients, supply chain and the individuals in the workforce involved. Sites which are reopened will, at this stage, be operated with significantly reduced and limited resource levels in place."
Sites also back up and running include its residential schemes at Chelsea Barracks for Qatari Diar and the Broadway development on the site of the former Metropolitan Police headquarters in Westminster for developer Northacre.
Other schemes it is working on include the Elephant & Castle shopping centre redevelopment for Delancey and the twin tower mixed-use scheme at One Nine Elms for Chinese developer R&F.
Last week, Mace said it was reopening 20 of its sites but with a significantly reduced workforce while yesterday leading London client Stanhope said it was looking at opening up some of its jobs in the capital including Lendlease's schemes at One Bishopsgate Plaza and 6-8 Bishopsgate.