Blaze struck Balfour Beatty-built complex last year
The University of St Andrews is advertising for firms to carry out a £12m job to fit-out a series of fire-damaged laboratories after a science experiment went wrong last year.
The 20-year-old biomolecular sciences building, built by Balfour Beatty, was hit by a blaze last February during a washing-up routine after an experiment involving hazardous chemicals.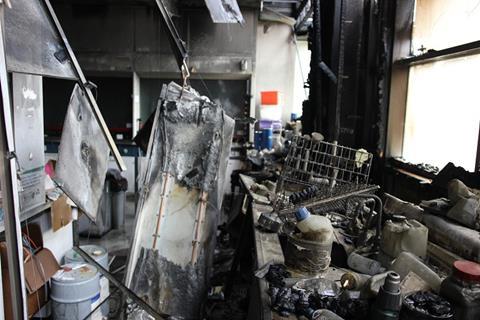 Following the fire, teaching and research was relocated to purpose-built modular buildings constructed by Portakabin and designed by Oberlanders.
Work on the first phase of repair work, which includes curtain walling and roof repairs, is already underway and is being carried out by Paisley contractor Taylor and Fraser.
More than half of the fit-out work is M&E with work also including a new front entrance, workbenches and fume cupboards.
Bidders have until 3 March to express interest and invitations to tender will be sent out on 15 April.
The original building opened in 1998 and was designed by Glasgow practice Boswell Mitchell & Johnston.