Harvard research finds better performance and less sick leave from workers in certified green buildings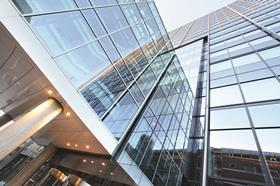 Employees who work in certified green buildings have higher cognitive function, less sick leave and higher sleep quality, according to a report from Harvard University.
The report, launched at the US Green Building Council's Greenbuild conference, found that employees in high-performing, green-certified buildings had 26% higher cognitive function test scores than those in similarly high-performing buildings that were not green certified.
Researchers studied 109 workers at 10 buildings in five cities across the US.
The study also found that employees reported 30% fewer symptoms of sick building syndrome (SBS) and had 6% higher sleep quality scores compared to those working in high-performing buildings that were not green-certified.
SBS describes a range of symptoms – including fatigue and poor concentration – thought to be linked to spending time in a certain building, most often a workplace, but where no specific cause can be found.
The research also found workers were more productive and paid more attention to their tasks when working in the green certified buildings.
John Alker, campaign and policy director at the UKGBC, said the report "supports the business case for pursuing a green building", which is ultimately "better for the bottom line."
He added: "This report is a wakeup call for anyone involved in the procurement or provision of buildings, whether for living, learning or working.
"Major employers in particular should take note – do you know what impact your own workplace has on your own workforce?"