Just how easy are safety tests? And what happens when a site nurse diagnoses a medical problem? We went on the road with two mobile units to find out
One of the inevitable problems with health and safety in construction is that traditional models do not work. In other industries, employers can install a medical unit in a factory, set up training programmes or develop a company health scheme. Construction, by contrast, operates on thousands of temporary sites manned by thousands of temporary workers. And it is the industry most likely to injure those workers or seriously impair their health.
Site services firms have been experimenting recently with site nurses, and CITB–Construction Skills has introduced a standard safety awareness test as part of the qualification procedure for the CSCS card. But, by themselves, these initiatives can have only a local impact. So, two schemes have been launched to fit health and safety with wheels and take it on site.
Building caught up with the CSCS safety test mobile units at a Countryside Properties Development in north-west London. The way it works is that operatives are given a handbook and then tested on whether they have read and understood its contents (special provision is made for those with poor English). Many are satisfied that this is all the preparation they need, but some begrudge the fact that the book was only given out two days beforehand.
Mark Foster, Countryside's health and safety director, thinks the test is pitched about right, because "those who read the book pass" (to see how you do, try the sample questions to the right). Some workers clearly haven't, then: there are five failures out of the 29 candidates tested on the day of our visit, including one of the site supervisors. Foster is adamant that won't dismiss any workers for failing, however. He says that they will simply retake the test until they pass.
The health van is being run by Constructing Better Health, a body that includes safety consultancy Sypol and CSCS chairman George Brumwell. It is part of a two-year pilot to increase awareness of occupational health problems. When Building got with the programme, the van was touring construction sites in Leicestershire. The CBH team hopes the scheme will be rolled out nationwide after an evaluation by an independent review next October. There are also moves to incorporate occupational health test results into CSCS cards.
The CBH van was parked at the entrance to a David Wilson Homes site called The Willows. During the two days it is on site, workers volunteer to be tested for a range of possible conditions including high blood pressure, lung damage and hearing loss.
If a problem is identified, the occupational health nurse advises the patient to visit a GP.
A confidentiality agreement prevents the nurse from sharing the information with the employer, but if a problem poses an immediate threat to the worker's ability to do his job safely this agreement will be broken. These cases include abnormal blood pressure among those working at height and vision impairment in plant operators.
Workers do not seem concerned that their job could be endangered if a problem is discovered. John Reddington, deputy managing director of David Wilson Homes East Midlands, says: "The workers here haven't been put off of the test by a fear of losing their job. Under the Disabilities Discrimination Act, a company is responsible for making reasonable adjustments."
Pass or fail? Three Workers who took the health and safety test at the mobile unit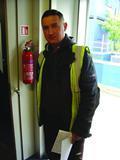 The mobile unit is a good thing: I'm too old to go to college. There are a few trick questions, but it's common knowledge. I have noticed a few things on site that weren't quite right
Max Edlin, Lee Marley Brickwork: passed the operative's test
It's the first time I will have taken the test; I only got told on Friday. It seems a bit difficult but it's a good idea. Some people don't really know what they're doing. People have different ideas of what's dangerous
Olts Muslia, K Kaybridge groundworks:preparing for operative's test
The supervisor's test is about the right mark; the operative's test is easy. If you fail it you're in trouble. Last week, they gave me the operative's test. Then this van came round, so I could do the right one
Sean Clapham, Lee Marley Brickwork: passed supervisor's test
Constructing better health: two workers in for check-ups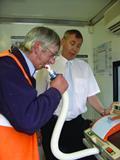 Tests have revealed a lung problem suspected to be the result of breathing in dust on site over 20 years in construction. It may not have been picked up by a doctor as they do not test for industrial problems
Geoff Cooper, 55, labourer
Received a clean bill of health, but intends to go back for regular checks to keep track of health
Carl Marsden, labourer
Put your health and safety knowledge to the test
Here are nine sample questions, with the answers below …
Health and safety test
1 You find a bottle of chemicals. The bottle does not have a label. What is the first thing you should do?
A Smell the chemical to see what it is
B Put it in a bin to get rid of it
C Put it somewhere safe then report it
D Taste the chemical to see what it is
2 If there are any doubts over a building's stability, a demolition contractor should consult:
A Another demolition contractor
B A structural engineer
C A HSE factory inspector
D The company safety adviser
3 A first-aid box should NOT contain:
A Bandages
B Plasters
C Safety pins
D Painkillers
4 On site, what is the minimum distance that oxygen should be stored away from propane, butane or other gases?
A 1 m
B 2 m
C 3 m
D 4 m
5 Continual use of hand-held breakers or drills is most likely to cause:
A Dermatitis
B Well's disease
C Vibration white finger
D Skin cancer
6 If you think you have found some asbestos, the first thing you should do is:
A Stop work and warn others
B Take a sample to your supervisor
C Put the bits in a bin and carry on with your work
D Find the first aider
7 Which two of the following documents refer to the specific hazards associated with demolition work in confined spaces?
A A safety policy
B A permit-to-work
C A risk assessment
D A scaffolding permit
E The Health and Safety Executive Health and Safety Law poster
8 You have to use a harmful substance. What must your supervisor do?
A Let you get on without giving any instructions
B Make sure that someone is working close to you
C Watch while you use the substance
D Tell you what is in the COSHH assessment
9 When asbestos is suspected in buildings to be demolished, what is the first priority?
A A competent person carries out an asbestos survey
B Notify the Health and Safety Executive of the possible presence of asbestos
C Remove and dispose of the asbestos
D Employ a licensed asbestos remover
The answers: 1 C, 2 B, 3 D, 4 C, 5 C, 6 A, 7 B & C, 8 D, 9 A
Occupational tests

Body Mass Index to determine obesity

Urinalysis to check blood sugar levels for diabetes

Skin assessment to check for problems caused by contact with chemicals and materials

Vision – check safety for occupational driving

Blood pressure – could pose danger if working at height

Lung function – problems can arise from contact with industrial dust

Hearing

Hand–Arm Vibration Syndrome assessment