New salary-linked plans for top brass announced by Leeds-based engineering consultancy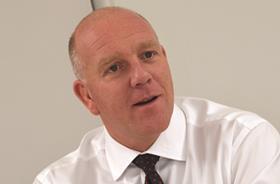 Leeds-based WYG has unveiled a new bonus plan for senior executives that it estimates will cost the company £600,000 per year.
Shareholders in the engineering consultancy have voted through plans to award its chief executive Paul Hamer (pictured) a bonus of up to 150% of his base salary, chief finance officer Sean Cummins up to 100% and other senior management up to 75%.
In a statement WYG said: "The arrangements are intended to provide the company with the facility to retain and incentivise its current senior management team and to attract new recruits."
WYG has estimated that the new bonus plan will cost the company £600,000 per year, rising to up to £1m by the end of 2018.
Proposed new incentive arrangements include a bonus deferral scheme in the form of cash and shares, a performance share plan (PSP) covering executive and leadership team and a restricted share plan (RSP) covering key senior employees.
The RSP has been designed to focus on retention of key staff, and is not expected to be taken up by executive directors.
The new plans are said to "strike an appropriate balance of rewards between on the one hand the executive directors, the global leadership team and other senior executives within the company; and on the other hand shareholders who provide the capital which is necessary to sustain and grow the business".
The new bonus plans come as the firm's chief operating officer Graham Olver steps down from the board with immediate effect. Olver was appointed in 2009 to turn around WYG and improve the structure and governance of the business.