First woman architect to appear on Desert Island Discs in its 74-year history
Zaha Hadid hit back at suggestions she has a reputation for designing expensive buildings when she appeared on Radio 4's Desert Island Discs.
"You need to invest in the city fabric," she declared.
Presenter Kirsty Young raised the Tokyo Olympic stadium saga and asked: "What proportion of your work does your company find in the end has to be shelved because there seem to be problems on cost? Because they are expensive buildings to build."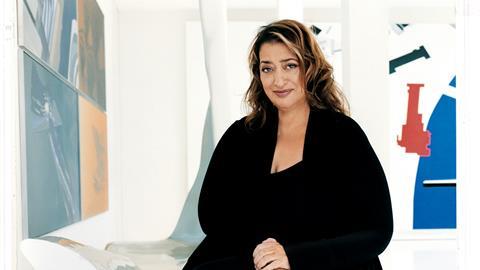 Hadid ignored the question, saying: "The Japan thing is not about cost. I mean that's their story but—. My view is that you either think about a building done long term or you do something which you can demolish in 10 years, or maybe 20. I don't see the point in doing a project badly, [or doing a project] that has no idea."
Eight million visitors a year flocked to her practice's Dongdaemun Design Plaza in Seoul, she said, which underlined the importance of investing in the quality of public buildings.
Asked what happens when clients quibble over the budget she said: "You can reduce it but you can't reduce it by half. You can shave certain things off to make it work."
She also praised engineers like the late Peter Rice for helping architects realise things they feared might be unbuildable.
Hadid is only the ninth architect to be cast away in the programme's 74-year history – and the first woman. Nicholas Grimshaw and Daniel Libeskind were the last two architects to feature, both in 2003 – though landscape architect and critic Charles Jencks was a guest in 2012.
The interview didn't break any new ground, ranging from her childhood in Baghdad where she designed her own bedroom, via her spare time - "I don't relax" - to the ethics of working for oppressive regimes.
Last time she was asked about that on Radio 4 – on the Today programme in September – she responded testily and eventually terminated the interview. This time she acknowledged that "it does" concern her, before re-stating her argument that nothing will change in countries with unpalatable governments unless architects make positive cultural contributions.
Young also raised the old chestnut of Hadid's "tough" reputation which she dismissed as "nonsense", suggesting people misinterpreted her failure to "overdo the flattery" as rudeness. Instead she said she was "taken advantage of all the time" because she was "too nice".
The programme will be repeated on Friday morning and is available on iPlayer.
Life on a desert island
In one of the most amusing exchanges, Kirsty Young asked Zaha Hadid to use her "considerable powers of imagination to tell me what your shelter would be like". Hadid did not cooperate.
Hadid: I'd live in a tent. I'd have to find some fabric or leaves. I'll have to find local people.
Young: There's no people around.
Hadid: Well I'm shelterless.
Book: Delirious New York by Rem Koolhaas
Luxury: Photographs from her childhood in Baghdad
Discs include:
The Ruins by Egyptian singer Umm Kulthum.
Holding Back the Years by Simply Red (reminds her of her office in the 90s when they pulled weeks of all-nighters to get projects out).
These Foolish Things by Bryan Ferry (she used to sing it).
Source
This story first appeared on Building Design