Architect beats Carmody Groarke and Hugh Broughton to the job to design the Science Museum's new mathematics gallery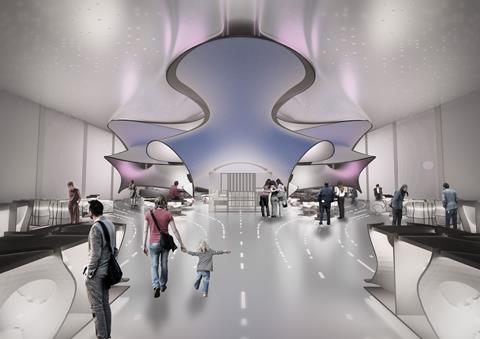 Zaha Hadid Architects has been picked to design the Science Museum's new mathematics gallery.
The practice beat Carmody Groarke, Hugh Broughton Architects, Adam Richards, Universal Design Studio and Casper Mueller Kneer to land the job.
The gallery, which will open in 2016, is part of the South Kensington institution's five-year Masterplan.
Other recent appointments have included Muf, Phil Coffey Architects and Wilkinson Eyre.
The maths gallery will be named after philanthropists David and Claudia Harding who have donated £5m to the project.
It aims to tell the story of how mathematicians have helped to shape the world from the turn of the 17th century to the present.
Science Museum director Ian Blatchford said: "With this gallery we want to evoke the kind of excitement around mathematics as our Collider exhibition has done around particle physics and with Zaha Hadid's extraordinary designs this project is off to the best start imaginable.
"This appointment reflects our ambition to deliver the world's foremost gallery of mathematics both in its collection and its design."
Zaha Hadid, who studied maths, said: "The design explores the many influences of mathematics in our everyday lives; transforming seemingly abstract mathematical concepts into an exciting interactive experience for visitors of all ages."
One of the star exhibits will be a Handley Page aircraft, a 1929 British experimental aircraft with a 12m wingspan which will be suspended from the gallery ceiling and which has also influenced ZHA's design.
In the 1920s, with civilian air travel expanding rapidly, aircraft manufacturers around the world demanded a better understanding of the mathematics of aerodynamics and material stress. In 1927, the American philanthropist Daniel Guggenheim mounted a $100,000 prize for the design of an aircraft that could take off and land slowly and steeply without stalling, vital at a time when urban airfields were often shrouded in fog. This experimental aircraft, made in Britain by Handley Page and building on aerodynamic work carried out in the First World War, was one of only two craft to compete in the competition finals.
Culture secretary Sajid Javid said: "Mathematics is an absolutely vital part of a rounded education. So it is great news that the Science Museum is to have a new gallery, helping to bring it alive and make it meaningful for everyone. And with Zaha Hadid to design it, I'm sure the end product will delight and amaze all who come to see it."
This story first appeared on Building Design.