Research centre and memorial in Phnom Penh to be built from timber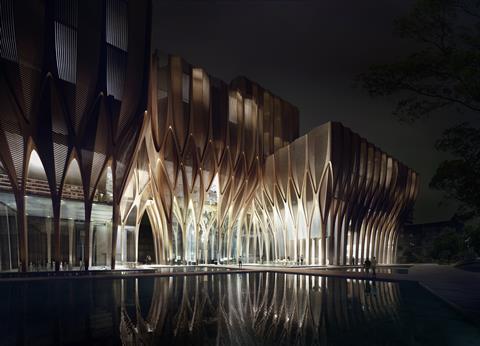 Zaha Hadid Architects has revealed its designs for a Cambodian genocide research centre.
The Sleuk Rith Institute and memorial will be built in the capital, Phnom Penh, in the grounds of a former school that became a "re-education" camp.
It will have five wooden structures that are separate volumes at ground level but interweave as they rise up, allowing connections between different departments.
They will house the institute itself, a library containing the largest collection of genocide-related material in south-east Asia, a graduate school focusing on human rights and genocide studies, a research centre and a media centre with auditorium.
The structures range between three and eight storeys and have an overall footprint of 80m x 30m at the base and 88m x 38m at roof level. This means the lower levels will be naturally shaded while upper levels will have louvres.
The institute was founded by the activist Youk Chhang who held captive by the Khmer Rouge aged 15 and who lost relatives to the regime.
He said: "In the context of genocide and mass atrocity, memorial architecture has tended to reflect the evil and misfortune of the historical period it represents. In this sense, the architecture's legacy is dark, sombre, and firmly oriented to the past.
"We were keen to create a forward-looking institution that deviates from the distress-invoking, quasi-industrial, harshness of most existing genocide memorial models. This is not to criticise or denigrate such models but, instead, to emphasize that in light of a Cambodia's rich cultural and religious traditions, we must move in a different and more positively oriented direction.
"The best memorials are not objects we visit once, contemplate, and file away. The best memorials evoke reflection and commemoration, but are also living, dynamic public places that engage with all generations in the community."
The institute, built from sustainably sourced timber, will be erected on raised terraces to protect it from seasonal flooding from the two rivers it sits beside.
The primary structure, exterior shading and interior partitions are intended to create a sense of natural scale, warmth and materiality. The more complex forms have been designed and engineered to be assembled from economical straight and single-curved timber sections.
This story first appeared on Building Design.