Architect will design 11-storey residential building next to the High Line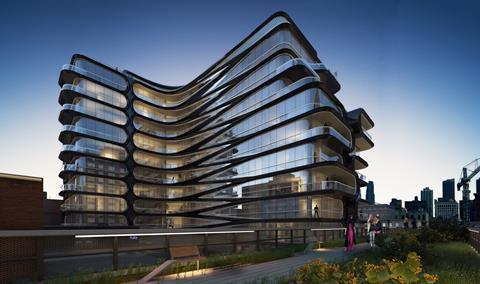 Zaha Hadid Architects has been commissioned to design an 11-storey residential building adjacent to the High Line in Chelsea, New York.
The project, for Related Companies, is Hadid's first commission in the city.
It will incorporate 37 residences of up to 5,500 square feet with 11-foot ceilings.
Jeff Blau, chief executive of Related Companies, said: "We are proud to partner with Zaha Hadid Architects and to continue Related's commitment to the very best in urban architecture.
"This development will be truly unique within the city's architectural offerings, and will pave the way for future architectural achievements on Manhattan's west side."
Hadid said: "Our design is an integration of volumes that flow into each other and, following a coherent formal language, create the sensibility of the building's overall ensemble.
"With an arrangement that reinvents the spatial experience, each residence will have its own distinctive identity, offering multiple perspectives and exciting views of the neighbourhood."