Controversial building's roof catches fire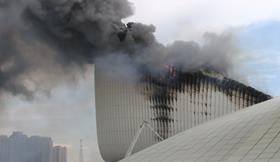 Architect Zaha Hadid's Heydar Aliyev Cultural Centre in Baku, Azerbaijan, went up in flames last week as the roof caught fire.
Fire chiefs are reported to suspect that welding taking place in the roof may be been to blame for the blaze.
Helicopters and over 25 fire engines were needed to tackle the fire at the centre, which only opened in May.
Local press reports said that three people have been arrested in connection with the fire for possible breaches of safety regulations.
Heydar Aliyev was a former KGB chief and the Soviet-era ruler of Azebaijan and had a controversial human rights record, which led to some criticism of Hadid's decision to design the centre.