Energy provider invests £3.5m to develop and monitor code level 6 homes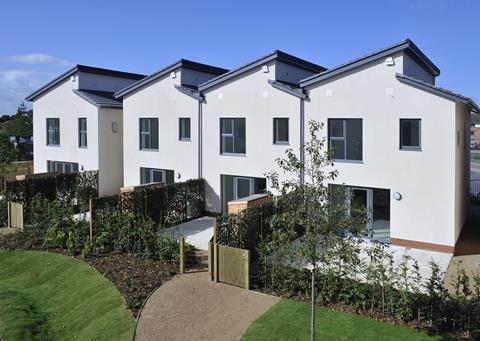 Scottish & Southern Energy (SSE) has developed a 10-home zero-carbon scheme in Slough, which it plans to monitor for the next two years to improve understanding of energy usage.
Greenwatt Way, which meets level 6 of the Code for Sustainable Homes, will be one of the UK's largest zero-carbon developments. It was designed by PRP Architects, with Bramall Construction as contractor and AECOM as engineer.
The one-, two- and three-bedroom homes, which surround a shared garden with space to grow vegetables, will be rented out to SSE and Slough borough council staff, as well as local people.
The research project, in which SSE is investing £3.5m, is testing a wide range of low-energy solutions, including a low-temperature district heat network to reduce heat losses and maximise heat source performance.
The scheme will also include an energy centre testing five different types of renewables, such as an air and ground-source heat pump, a biomass boiler, solar thermal panels and solar photovoltaic tiles.
Chris Wilford, associate director at PRP, said: "The aim is to replicate a larger, 'healthy' community where good neighbourhood interaction helps encourage a more sustainable lifestyle. It is important for the UK to trial different low carbon technologies and fully understand their performance in a low energy home."
Paul Brumpton of AECOM said: "Although many of the renewable technologies used on these homes have around for several years, now this is the first example where they have all been deployed on one development to allow us to effectively monitor the efficiency of each system."