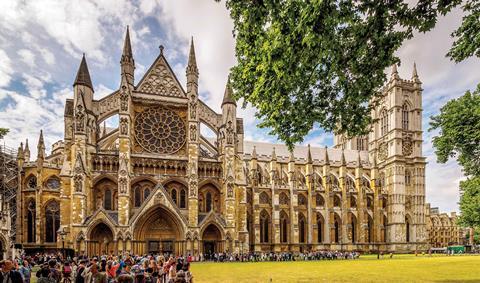 Battles over Westminster Abbey
Although our architecture correspondent was a big fan of Westminster Abbey's new slinky glass-walled staircase, which has also won the popular vote, plans to overhaul the landmark haven't always been so popular.
Nearly a decade ago, there were plans to give the abbey a new crowning glory.
The dean of the abbey, John Hall, wanted a £10m crown-shaped roof to replace the building's 1950s pyramid roof in front of the high altar in time for the 60th anniversary of the Queen's coronation in 2013.
The RIBA was gearing up for a right royal competition – with one proviso – that the scheme gained public backing. Our readers' online comments that week suggests it did not. "All that can be achieved is an eye-catcher for a building that transcends such vanity, while coronas are more Scottish than English. It would be a total folly and I question the integrity of those who seek it," wrote Jonathan Foyle, one of our readers.
However, although this particular project didn't come to fruition, the 2009 plans also mention a new museum on the upper floors, so some elements of the scheme have resurfaced.
To read the full article from 29 June 2009, click here