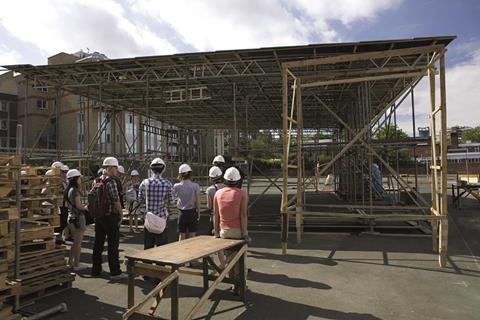 Getting afloat
This week, the theatre built on the site of the Raymond Revuebar highlights the contrast between the new corporate face of Soho and some of its more risqué history.
Building doesn't seem to have spent a lot of time in Soho over the past 175 years – at least, not officially – so we decided to look back at an unusual theatre project in another part of the capital.
The temporary 100-seat Jellyfish theatre was under construction on the South Bank and it was rubbish. Literally, rubbish. The venue was to be built by volunteers out of: "Materials that are deemed useless and thrown out. Board offcuts … rickety tables, freight pallets, old theatre sets, empty plastic water-cooler bottles …"
"This project reverses the normal processes of our economy," said designer Martin Kaltwasser. "Here we are turning waste into functional products. We take something worthless and make something of worth out of it."
Such an unconventional project had some choppy waters to navigate – it was only given provisional planning permission until completed – but surfaced to open in autumn 2010.