This week's football coverage continues with a look back at a Building feature from the archive on office celebrations during the 2006 World Cup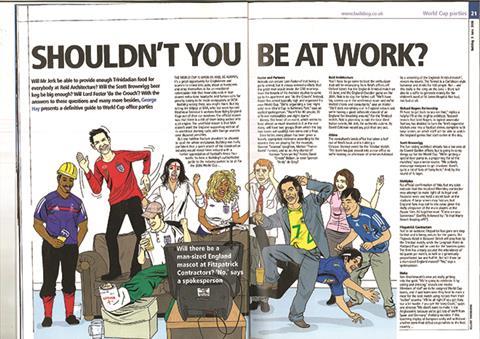 Shouldn't you be at work?

Ahead of the 2006 World Cup kicking off in Germany, Building ran a piece in the 9 June 2006 issue that pried into the nature of the sector's office celebrations for the month of football ahead.
Going undercover (we presume in St George's face paint, and a red and white afro wig), George Hay, then news editor, uncovered such truths as Reid Architecture having a "giant inflatable mascot of an England fan" in the office while placing a mammoth order at their local West Indian restaurant for England's match against Trinidad and Tobago.
Meanwhile, Scott Brownrigg decided to hire in a "special beer keg" for use while broadcasting the England matches in their Covent Garden office. Perhaps most impressive was Fitzpatrick Contractors, who hired out venues especially for the games, including Fitzrovia Hotel and Langham Hotel.
George wrote: "The firm has already secured the attendance of 60 guests per match, as well as a generously proportioned bar and buffet. But will there be a man-sized England mascot? 'No,' says a spokesperson."
The celebrations were, perhaps somewhat inevitably, cut short when England crashed out to Portugal in the quarter-finals of the tournament on penalties.
It's unknown what became of Reid's inflatable mascot.
To read the article in full click on the pdf file below. Other highlights from the archive can be found at www.building.co.uk/archive