Before the Thames Barrier was brought to completion, a possible flood in the city of London was a grave concern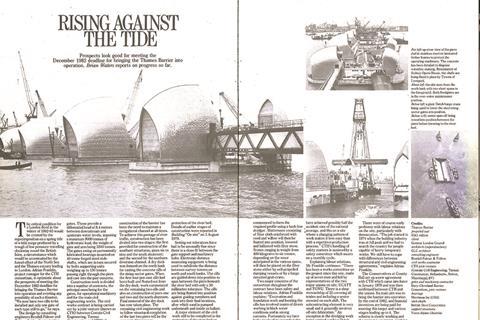 Rising against the tide
Before the Thames Barrier was brought to completion, a possible flood in the city of London was a grave concern. With the winter of 1982-1983 carrying predictions of low pressure travelling round the British Isles, it could have resulted in the tide being accentuated by the funnel effect of the North Sea and the Thames estuary leading to London. Luckily, the deadline of December 1982 for the Thames Barrier looked set to be met.
Brian Waters reported: "The design by consulting engineers Rendell Palmer and Tritton divides the navigation channel into two pairs of 61 metre spans using rising sector gates. These provide a differential head of 8.4 metres between downstream and upstream water levels, imposing a maximum 9,000 tonnes of hydrostatic load, the weight of gate and arm being 3,200 tonnes.
"Its main aim was to bring the barrier into operation by the end of 1982, and financial incentives are being paid for meeting this target and various stages leading up to it. The scheme is clearly working and the project is on target, working round the clock on three shifts on a 5 ½-day week."
See PDF file below to read the full article.