Three-and-a-half decades ago, Building reported that building graduates would not struggle to find employment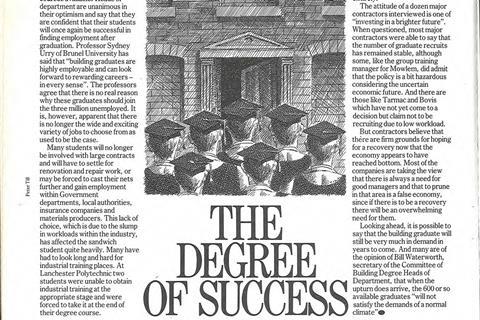 The degree of success
Construction has long struggled to shift its image from a bunch of hairy blokes on site doing hard manual labour to an educated, professional workforce.
The need to attract the brightest and best was notable 35 years ago when Grace Pieniazek wrote in Building that, despite mass unemployment in the economy generally, "most if not all of this summer's building graduates are sure of getting a job". There were also predictions that, once the upturn came, demand would only increase as the number of building degree candidates would "not satisfy the demands of a normal climate".
However, in that poor economic environment, the industry offered "less choice" of roles and it was noted that "many students will no longer be involved with large contracts and will have to settle for renovation and repair work" or, helpfully "there is always work abroad". It's a good job UK construction was far more long-term in its thinking by the time of the last recession; think of all the graduates that may have left the industry.
It could still be argued that not enough students pick building, or indeed any construction-related subject, as their degree. This is exacerbated by the view that UK construction still doesn't encourage careers for half the population (specifically, the female half); our feature on women in engineering (page 24) gives some examples of why.
To read the article from 29 January 1982 download the PDF below