Thirty years ago 60% of 'unemployed' construction workers were believed to be earning off the books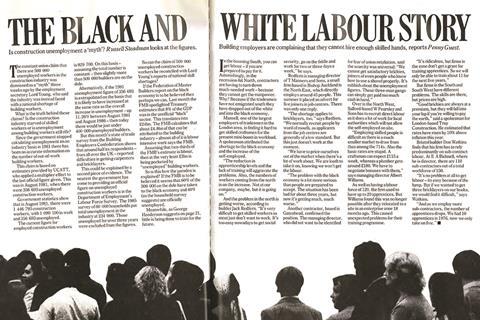 The black and white labour story
The shortage of construction skills is rearing its ugly head again, as firms fear they will lose foreign labour because of the Brexit vote.
Thirty years ago, the black economy got most of the blame for skills shortages, with 60% of "unemployed" construction workers believed to be earning off the books.
"It's very difficult to get skilled workers as most just don't want to work," said builder Jack Redfern. "It's too easy to get social security, go on the fiddle and work for two or three days a week." One contractor said: " We cannot get satisfactory brickies, joiners or even people who know how to use a shovel properly" as they "get paid too much cash in hand."
AE Bicknell had to rely on subcontractors, who made up 110 of its workforce of 150. Director Don Watkins said finding lump labour was "no problem at all" but getting skilled workers on the books was difficult. He noted: "And, as we employ more sub-contractors, the number of apprenticeships drops."
This could only make matters worse, a Mansell spokesman said: "The reduction in apprenticeship levies and the lack of training will exacerbate the problems."
To read the article from 19/26 December 1986 download the PDF below.