Three decades ago Center Parcs promised a new experience "tested fastidiously" in Belgium and Holland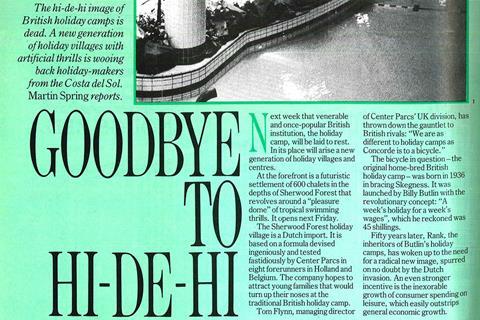 Goodbye to Hi-de-Hi
As we reported on the National Gallery of Ireland being refurbished to improve the visitor experience, including that of countless tourists to Dublin, Building was reminded of a story about holidays from 30 years ago. How summer breaks have changed since then.
Dutch company Center Parcs' holiday villages are now such an integral part of British family vacations that it's difficult to imagine the leisure landscape without them. However, in 1987, the term "holiday park" was solely associated with Butlins and the like, famously parodied in the sitcom mentioned in the headline, and the concept was struggling to compete with Mediterranean package tours.
Center Parcs promised a new experience "tested fastidiously" in Belgium and Holland and won a grant of £1.5m from the English Tourist Board - the largest ever given at the time. The development bill for the Sherwood Forest site was £32m for its distinctive "natural" setting, water landscaping and impressive swimming pools.
"We are as different to holiday camps as Concorde is to a bicycle," said Tom Flynn, managing director of the firm's UK division. Well, time has certainly been kinder to Center Parcs than the Concorde.
To read the full article from 26 June 1987, download the PDF below