Building visits a buzzing hive of activity in London's Docklands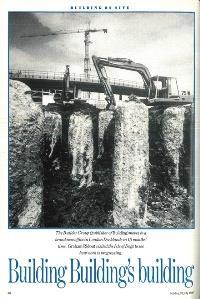 In this week's magazine, we talked to Rob Tincknell, chief executive of the Battersea Power Station Development Company, about progress on the site of the redevelopment. It put us in mind of another iconic megaproject, writes Helen Burch.
In 1987, Graham Ridout was checking out the magazine's future offices in London Docklands. They were being constructed amid "so much work, it gives the impression that the construction industry is about to overheat".
Contractor J&J Fee's project director Jim Brown mentioned concerns that work would start at the same time as Canary Wharf, which would have caused serious difficulties in getting hold of enough ready-mix concrete.
At the time of writing it was difficult to tell what the Builder House itself was going to look like. But that was perhaps the least of our writer's worries.
"Don't worry, the pub will be built before you move into your offices," Brown kindly reassured him.
To read the full article from 24 July 1987, download the PDF below