Building gives advice on the best networking events to be seen at throughout the year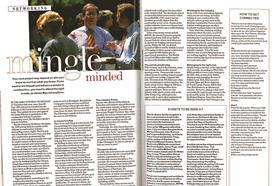 Mingle minded
As the saying goes, it's not what you know, it's who you know, and the year 1996 was no exception.
Hundreds of events filled industry professionals' calendars, but Building's helpful guide meant the industry knew what places to be seen at and what was worth giving a miss.
James Macneil explains: "Good contacts can make the difference between you getting your name pencilled in on a contract before your competitors hear about it and having to battle for work in an oversubscribed competitive tender.
"But pick the wrong party to join and you could find yourself mixing with people who don't have a clue about where their next job will come from, let alone where yours will."