British roller-coaster engineer John Roberts was presented with the challenge of creating a ride like no other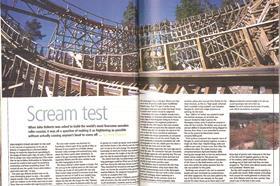 Scream test
This week we head back to 2001 when British roller-coaster engineer John Roberts was presented with the challenge of creating a ride like no other.
As the director of engineering at consultant Babtie Group, Roberts' role was to create rides that make the fearless scream. His brief this time was clear; the client wanted fierce, and Roberts delivered.
Andy Pearson reported: "The £4m roller-coaster was destined for TysenFryd, a theme park 15km south of Oslo, in Norway. It was to perch on a hillside, slotted between rocky outcrops and scattered pine trees, above the theme park's other attractions. To make it the gut-churning experience the client requested, Roberts and his team needed to use the site's topography to the full.
"The theory behind the roller-coaster is simple. Pull the cars up to the highest point on the track and let them go. A pair of rails guides the cars and their human cargo around a circuitous track that weaves in and out of itself in one tangled loop, like a hopelessly knotted piece of string."