As the disputes over the Garden Bridge drag on, Archive looks back to a less cynical but equally fraught time for bridge building in London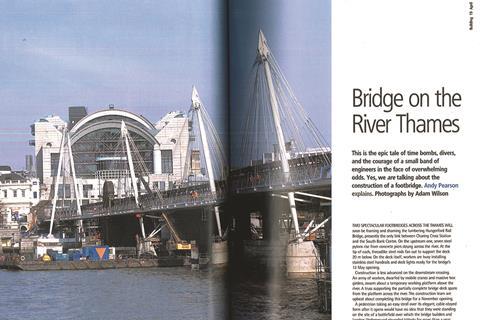 Bridge on the River Thames
As the disputes over the controversial Garden Bridge drag on, Archive looks back to a less cynical but equally fraught time for bridge building in London.
This "epic tale of time bombs, divers and the courage of a small band of engineers in the face of overwhelming odds" tells the story of the Golden Jubilee Bridges, or Hungerford Bridge, as the set of bridges that go from the South Bank Centre to Charing Cross Station are often known, which opened in 2002.
The battle lines were drawn, wrote Andy Pearson, between the contractor, a Costain/Norwest Holst JV and the London Underground. The Northern and Bakerloo lines run under the river and almost intersect the bridge. The LU was very worried the works could detonate a bomb left over from the Second World War.
The LU placed a series of restriction on the works. In one impasse, it even decided the bombs might have a 96-hour fuse delay, which would have meant tube tunnels remaining closed for four days after work finished - clearly impossible. It just goes to show that building bridges doesn't have a second meaning in construction.
To read the full article from 19 April 2002, download the PDF below.