In 1997, the Building was looking at the first virtual walkthroughs of CAD models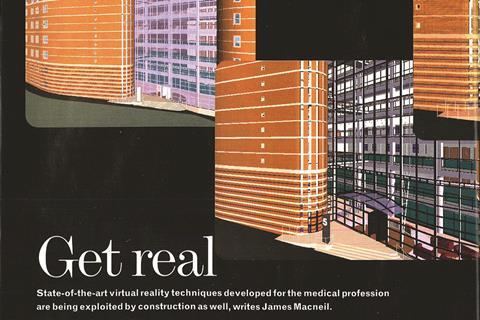 Get real
This week's article about drones looks at ways that robots could change the construction industry - possibly to the extent of creating a jobless society, which for professionals pulling on their hi-vis jacket at 6am on a cold, dark morning must be a daunting thought.
In 1997, the industry was trying to get to grips with technology we now take for granted by looking at the first virtual walkthroughs of CAD models. "There are few obvious similarities between the construction industry and the medical profession," wrote James Macneil, but the centre for Industrial and Medical Informatics in Nottingham provided "access to state-of-the-art, high powered 3D computer design systems" that design teams, clients and doctors alike could use.
The article also answered questions about internal company networks, for instance: People keep talking about internets and intranets. What is the difference? Chris Partridge, the expert being questioned, had a surprisingly impassioned answer: "I wish the clever dick who coined the word 'intranet' could be strung up - it is so similar to the word Internet everyone has to shout 'IntRAnet' to make sure the meaning gets across".
To read the full article from 4 April 1997, go to download the PDF below