Back in 2002 one firm took an unusual approach to retaining its employees by consulting the Tao Te Ching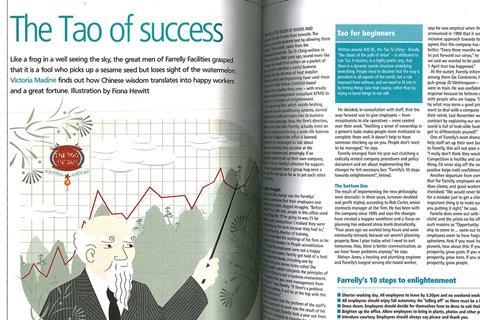 The Tao of success
Could ancient Chinese philosophy be the key to solving the UK's labour supply issues? This week our columnist James Wates suggests a range of ways to tackle the skills crisis in response to fears it will worsen after Brexit.
But back in 2002, Farrelly Facilities took an unusual approach to retaining its employees by consulting the Tao Te Ching - meaning the "classic path of virtue", which includes the idea of letting things take their course, rather than bending them to people's will. This doesn't sound a particularly construction-friendly sentiment, but when translated into the workplace, it simply meant providing a work-life balance.
Employees were given more control of their work and a more relaxed atmosphere was introduced. Workers were encouraged leave by 5.30pm and not work at weekends, allowed to dress down, given birthdays off and given greater training opportunities. The company decided on change when it realised morale was low. "Before going off site, people […] used to say things like 'If I'm going to war, I'll be needing some ammunition,'" said director of training Jerry Farelly. "I realised they were only turning up for work because they had to." Perhaps government could take a leaf out their book.
To read the full article from 11 May 2002, download the PDF below.