In 2002, Building published images of a deck of cards to illustrate government reshuffles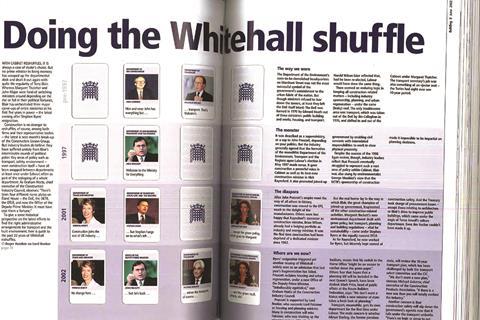 Doing the Whitehall shuffle
If the Conservatives have held on to their lead then by the time you read this the industry will be waiting to see if a reshuffle will make any difference to departments relevant to construction.
Although that would mean three lots of appointments in two years, previous governments have also loved nothing more than chopping and changing positions and departments at high speed.
In 2002, Building published a deck of cards to demonstrate the transformation of departments dealing with construction, starting with minister John Gummer, who was in charge of the Department of the Environment for the Conservatives before 1997, dealing with building-related matters including planning – except for transport.
In 1997 came the flatteringly described "monster" department of "everything" (or rather, environment, transport and regions), headed by Labour's John Prescott, but by 2002 , transport had disappeared to its own office under Alistair Darling.
Probably a good thing, as now the thought of having to handle both the housing crisis and train strikes would be enough to make any minister have a meltdown.

To read the full article from 8 June 2002, download the PDF below