Three years after the attacks on the Twin Towers, three construction experts tell of their involvement in the clean-up and rebuilding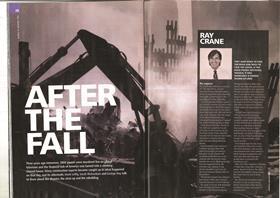 After the fall
The completion of New York's One World Trade Center, as profiled in this week's magazine, serves as a landmark point in the redevelopment of the former World Trade Center site: a project that has been in the public spotlight - and come under constant scrutiny - from day one, while always carrying with it the weight of events 13 years ago.
Ten years ago - marking the three-year anniversary of the destruction of the Twin Towers - Building spoke to three construction experts who had been personally affected by the fall, clean-up and prospective rebuilding of the site. Ray Crane, chairman of Arup USA at the time events took place, was involved in the immediate clean-up. He gave a candid retelling of what he saw to Building: "I was standing on the roof of the World Trade Centre, but I was only 15ft off the ground.
"There was so much adrenaline pumping, it was so scary and emotional that I never batted an eyelid. Everyone bumped into each other with their eyes wide open as they were so amazed by the monstrosity of it.
"It was an acrid, fuming stench. It remained in New York for months. Even today I can smell it if I think about it."