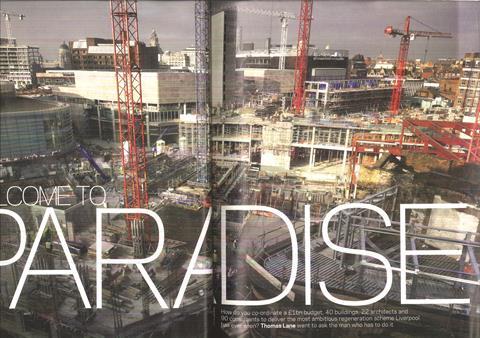 Welcome to Paradise
The projects that we looked at this week for the year ahead were pretty ambitious, including 100 Bishopsgate in the City of London and the new V&A in Dundee. In 2008, however, the developers we interviewed had decided that designing a single set of buildings just wasn't challenging enough and embarked on rebuilding almost a whole city centre, along with the area's reputation.
"We aren't doing this because we're masochists, although it feels like that sometimes," said Rod Holmes, retail projects director at Grosvenor, which was in charge of regenerating the retail core of Liverpool to bring back customers who had left to do their shopping in nearby cities.
The wide-ranging scheme took in 40 new buildings, including retail, apartments and leisure, which had been shared between 22 architectural practices. There were also 90 consultancies involved at various levels. So no potential for conflict there, then …
Grosvenor's work was given an extra level of pressure when Liverpool was awarded European City of culture 2008, which meant that Paradise had to be ready to welcome customers to a glittering, branded shopping heaven a year earlier than expected.
To read the full article from 11 January 2008, click on the pdf below.