Five years ago we reported on the Prince of Wales' involvement in a scheme for an 'eco-hamlet'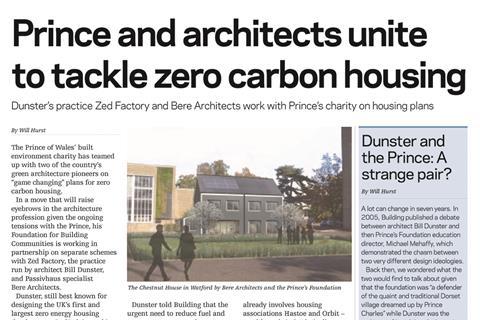 Prince and architects to unite to tackle zero carbon housing
Dave Rogers reported this week on Heritage England and Save Britain's Heritage's objections to former Manchester United players Ryan Giggs and Gary Neville's plans for two residential skyscrapers (see page 15). The towers, set to reach 21 and 31 storeys in Manchester's city centre, contrast strongly with a scheme in another part of the UK suggested by another famous figure in 2012, writes Helen Burch.
The Prince of Wales was involved in a scheme for an "eco-hamlet" of "up to 10 ultra-low energy homes in Neath, south Wales", through his Foundation for Building Communities, which was working with Zed Factory, run by architect Bill Dunster.
Reporter Will Hurst described it as a "move that will raise eyebrows in the [architecture] profession given the ongoing tensions with the Prince". Dunster appeared to explain the collaboration by saying that the urgent need to reduce fuel and energy usage pushed "everyone to work together to sort it out".
Unlike the towers in Manchester, the Welsh housing was intended to have a traditional look, with "barn-like timber frames" and photovoltaic panels to generate solar energy.
The foundation also worked on two Passivhaus houses with Bere Architects (pictured).
To read the full article from 24 February 2012 click on the link below