One year ago, Building was investigating what might happen in the event of a Brexit vote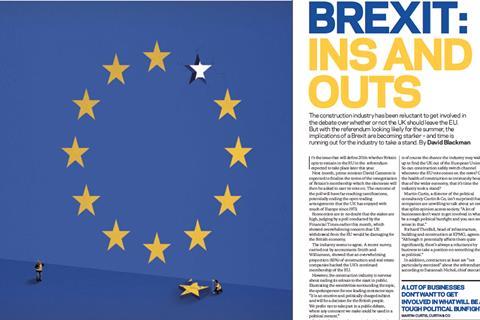 Brexit: Ins and outs
Just one year ago Building warned that the industry's apparent apathy towards the Brexit debate could have serious consequences if the unthinkable happened and the country actually voted to leave the European Union, writes James Clegg.
Well, a year seems like a long time ago: the British people did, indeed, choose Brexit; prime minister David Cameron resigned as a result; and the referendum has been heralded as a key event in the wave of nationalistic populism sweeping across Western society in a way not seen since the first half of the twentieth century.
But where has that left the UK economy and its construction industry? Despite an initial dip the UK has not, so far, seemed to suffer too much from the spectre of Brexit uncertainty. However, as this article flagged up, one of the biggest problems for construction will be plugging the skills gap if our exit negotiations mean the end of free movement of labour for EU workers coming to the UK. "A lot of our members rely on free movement of workers," said Sarah McMonagle of the Federation of Master Builders.
So, now that Brexit is happening the industry, through our Building a Better Brexit campaign, at least has a chance to shape what it looks like. It's a chance it cannot afford to turn away from.
To read the article from 22 January 2016 download the PDF below.