The government was in a predicament on construction 40 years ago not too different from the one it faces now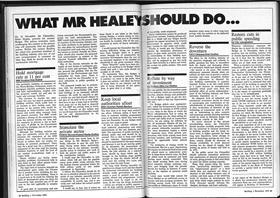 What Mr Healey should do
As the country awaits chancellor George Osborne's Autumn Statement (currently scheduled for the rather wintery date of 3 December) - the final one before the election, Building casts its view back 40 years to 1974.
Just as now the magazine is looking to put together Agenda 15 - a manifesto to help steer the next government's policy on the construction sector - so in 1974 it was offering advice to one of Osborne's predecessors, the bushy eye-browed Mr Denis Healey, for his 12 November autumn budget.
A number of industry figures and a couple of our then hacks offer such helpful tips for the centre-ground Labour chancellor as: "hold mortgage rates"; "stimulate the private sector"; "keep local authorities afloat"; "reflate by way of investment"; "reverse the downturn"; and "restore cuts in public spending". All of which sound like suggestions that people could make to our current government as it attempts to keep the economic recovery on track.
How things change…