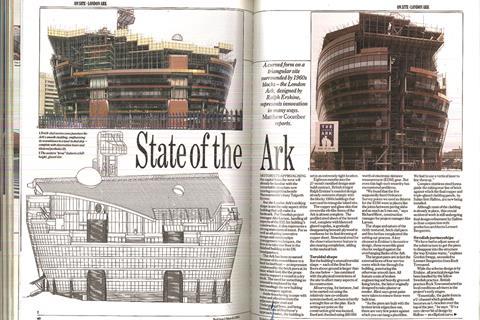 In 1991 the Ark was built. Less concerned with livestock than its Biblical namesake, this office building has become a prominent landmark in west London, writes Hollie Tye. But the building's unusual toroidal shape - its first five floors being larger than the one below - along with the physical restrictions of the site, meant its construction wasn't plain sailing.
Building's Matthew Coomber reported: "The London Ark's striking shape is not the only aspect of the building that will make it a landmark. For Swedish project manager Ake Larson, handling all aspects of the £33.5m building's construction, it also represents a strong statement of intent. For as well as adopting innovative design and construction management techniques, the firm is to take one floor in the finished building as its UK headquarters.
"The Ark has been so named because of its resemblance to a land-locked boat - an impression reinforced by the brick piers as its base which look like the props used to support a vessel in a dry dock. The need for something so unusual is explained by the surroundings the new building has to compete against.
"Aside from having to cope with noise and vibration from the adjacent major road and Underground lines, and being beneath one of Heathrow's approach routes, the building is set in an extremely tight location."