As the Building Awards 2016 opens for entries, we take a look back to 2006, when a star-studded guest list took over Grosvenor House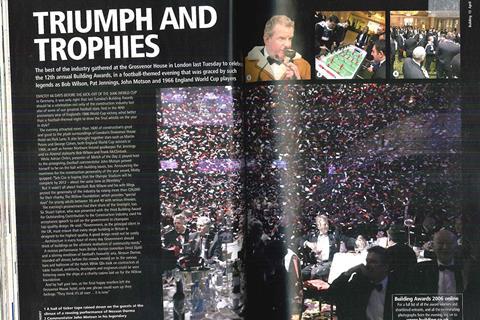 Triumph and trophies
As the Building Awards 2016 opens for entries, we take a look back to 2006, when a star-studded guest list took over Grosvenor House, writes Hollie Tye.
Attracting more than 1,200 guests from the construction industry, the 12th annual Building Awards incorporated a football theme to coincide with the approaching World Cup. It was a night of two halves, as the awards ceremony was closely followed by an evening of entertainment, including foosball, a charity casino and British-Iranian comedian Omid Djalili.
Building reported: "Exactly 66 days before the kick-off of the 2006 World Cup in Germany, it was only right that last Tuesday's Building Awards should be a celebration not only of the construction industry but also of some of our greatest football stars. And in the 40th anniversary year of England's 1966 World Cup victory, what better than a football-themed night to blow the final whistle on the year in style?
"While Adrian Chiles, presenter of Match of the Day 2, played host to the prizegiving, football commentator John Motson proved himself to be on the ball with building issues, too. Announcing the nominees for the construction personality of the year award, Motty Quipped: 'Seb Coe is hoping that the Olympic Stadium will be complete by 2012 - about the same time as Wembley.'"

Entries are invited for Building Awards 2016 - deadline Friday 17 June