Staff numbers at growing practice up to nearly 300
Expanding practice Scott Brownrigg has snapped up GMW Architects, meaning staff numbers at the firm have nearly doubled to close to 300 in just over a year.
Scott Brownrigg said the move had been sparked by GMW's work in the airport sector, notably its recent scheme at Istanbul Airport in Turkey.
GMW has been going for nearly 70 years and made its name for work on a number of office buildings in the City of London – including schemes at Leadenhall Street and Bishopsgate that were considered for listing last year by English Heritage when it put forward a raft of post-war buildings for protection.
But the firm has recently been better known for transport work and has a spot on Network Rail's framework as well as its growing airport work.
The GMW name has now disappeared with the firm rebranding under its new owner but the business and its 41 staff will remain at Battersea in south London.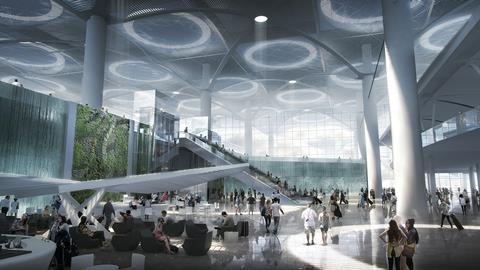 Scott Brownrigg chief executive Darren Comber said GMW had been bought for its airport work and added: "The acquisition of GMW will significantly contribute to the strengthening of the airport sector for Scott Brownrigg. It is part of our vision and desire to strengthen this status and the acquisition of GMW will contribute significantly to enabling this plan to be achieved.
"GMW has a respected reputation for designing and delivering City of London office buildings as well as being recognised as a leading designer of transportation projects, nationally and internationally. Both of these sectors are specific areas of interest to Scott Brownrigg.
"The integration of complementary and successful architectural firms will offer us the ability to either enter new markets or add vertical and horizontal expansion to sectors we are already recognised for."
In its latest accounts, Scott Brownrigg posted a 28% increase in revenue to £14.9 million in the year to July 2014. Profits were up a quarter to £1.1 million in the same period. The average number of staff at the year end was then 168.
The firm has been growing steadily since with staff numbers around 200 last September. But the GMW deal and the recent opening of a new office in New York – bringing the number of offices to nine – mean that staff numbers at Scott Brownrigg have now gone up 40% to around 280.
GMW: a history
GMW was formed in 1947 by Frank Gollins, James Melvin and Edmund Ward. The three retired in 1974, having overseen work on a number of projects including the central campus for Sheffield University and Castrol House on Marylebone Road. It also worked on the 28-storey Commercial Union Tower at Undershaft in the City, which was completed in 1969. It was the first tower in the capital to exceed the height of St Paul's Cathedral but it could be knocked down if plans by Avery Associates to build a 270m tall tower next door to the Cheesegrater get the green light.
Later work by GMW includes the Barclays Bank Building on Lombard Street which it completed in the early 1980s while a decade later it carried out refurbishment work on Richard Seifert's NatWest Tower – now the renamed Tower 42.
Source
This story first appeared on Building Design