In the wake of covid-19, it is clear that infection control needs to become integral to buildings – as well as to construction sites. David Ludlow surveys some innovative products that can help protect against virus transmission
With vaccines slowly becoming available, it appears we finally have an exit route from the covid-19 situation. Yet, as encouraging as that is, there is little clarity on how quickly we will return to normality – or if this is even fully possible.
The pandemic has taught us that novel viruses can completely disrupt the world as we know it. It is clear that we need new technology and tools not only to protect against covid-19 but to defend us against any future novel viruses.
The approach to defending against viruses in the built environment will be two-pronged. Firstly, we are going to see a rise in smart buildings that use technology to meet current regulations, such as through automatic adjustment to the floorspace limitations created by social distancing requirements, which could be with us for a long time.
According to the British Council for Offices (BCO), social distancing means that it will only be possible to use 60% of available space. Smart buildings will become more common and will incorporate additional technology. For example, occupancy sensors will be used to track usage, turn on anti-viral devices and manage cleaning sensors; there will be more touch-free interfaces; and building management software will track the flow of people through buildings.
The second prong is technology designed specifically to fight viruses – and some of this will also tie into smart building systems, triggered according to the parameters set by users. It is this category that this article will examine, with a run-through of the latest technology designed to facilitate a safe return to work.
Surface-cleaning technology
Although evidence strongly points towards covid-19 infections largely being spread by droplets in the air, it is also possible to catch the virus through touching infected surfaces. A case potentially involving lift buttons has been recorded in China, and other infections such as norovirus are known to have been spread via infected surfaces.
For existing equipment and controls that cannot be replaced by hands-free tech, Liquid Guard (protectionzone.co.uk) is a spray that can protect surfaces from bacteria and viruses for up to 12 months after a single application. According to the manufacturer, it has been shown to be 99.8% effective in killing enveloped viruses, including coronaviruses, and can be applied to door handles, mobiles, desks and computers.
No matter what technology is installed, deep cleaning and sanitising office spaces and equipment is vital. Technological solutions can make these jobs quicker and safer
When buying new furniture, it could be healthy to invest in products that resist infection. Office furniture manufacturer Bisley (bisley.com) has launched a new anti-microbial furniture paint, Biocote, which can stop up to 99.99% of microbes and is effective within 15 minutes of application to Bisley furniture. It is sold in the company's standard colours (traffic white, black and light grey), with other colours available on a project‑by‑project basis.
It is not always possible to have a touch-free entrance to every room, so the Tweaq Touch 1 (tweaq.co) offers another solution: a self-cleaning door handle that can be fitted to standard doors. After the handle is used, a peristaltic pump brings disinfectant to the sponge inside the ring around the door handle. An internal system drives the outer aluminium ring backwards and forwards along the surface. The product will send a notification to the manufacturer when its cleaning cartridge is empty, and cartridges can be swapped and sent back to Tweaq for refilling.
Hands-free tech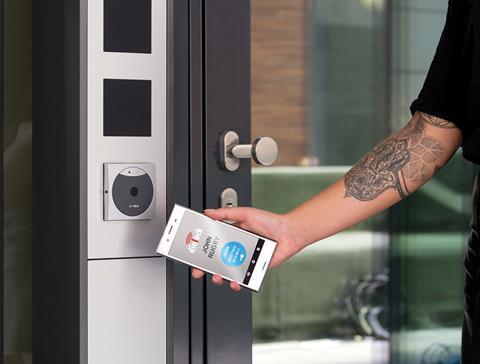 The fewer surfaces that people need to touch, the lower the general risk. Swapping out touch controls and devices for automatic ones can therefore prove to be a valuable step in the fight against infection.
Smart door locks, such as the Häfele Dialock (hafele.co.uk), pictured above, can provide multiple advantages. Dialock uses Bluetooth in combination with an app to provide a digital key for different door types, from regular internal to automated sliding or swinging doors.
Combining Dialock with flow control software, it is possible to limit how many people can enter a room or building, enforcing social distancing and capacity limits.
Automatic hand sanitisers help encourage people to keep clean, particularly when entering the building or common areas. There are lots of models to choose from, but it makes sense to match a product to the level of expected footfall.
The Infect Protect SteriCrowd (infectprotect.uk) can sterilise up to 30 pairs of hands a minute, with refills lasting between 2,500 and 25,000 dispenses per refill. That works out at around 0.01p per use of hand sanitiser, excluding the machine's purchase and installation cost.
Disinfection and purification
No matter what technology is installed, deep cleaning and sanitising office spaces and equipment is vital. Technological solutions can make these jobs quicker and safer.
If the job needs doing particularly quickly, there is Shark Robotics' Sanitizing Rhyno Protect, powered by Danfoss technology (danfoss.com). Designed as a fire-fighting robot, the Rhyno has a new top module that can spray decontaminant fluid without the need for humans to get directly involved.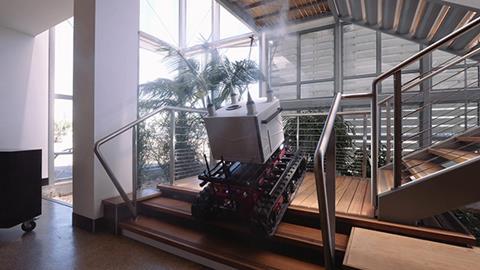 "The Sanitizing Rhyno Protect disinfects faster than a team of human cleaners. Customers typically find this very surprising. The robot is also extremely easy to operate. You do it with a wireless remote control which most people can learn to operate in five minutes. A kid can do it," says Cyril Kabbara, Shark Robotics co-founder and chief operating officer.
Another way to deal with viruses is through ultraviolet-C (UV-C), a shortwave germicidal. According to Philips Lighting, "All bacteria and viruses tested to date – many hundreds over the years, including various coronaviruses – respond to UV-C disinfection."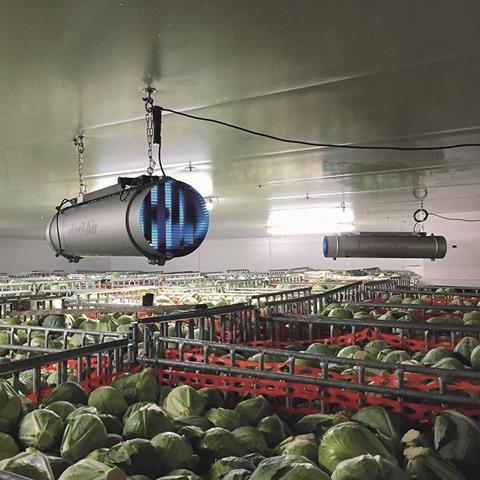 UV-C can be used in many settings. Signify (signify.com), the parent company of Philips Lighting, provides UV-C disinfection upper luminaries to disinfect air, disinfection battens to disinfect surfaces, and disinfection chambers to disinfect objects.
PP-L Health Technology Solutions has also been promoting the benefits of UV-C, writing an open letter to parliament requesting that UV-C air disinfection systems be installed in all indoor workspaces and venues where the public gather indoors, and in transport where air ventilation is poor or largely recirculated. PP-L (pplpro.co.uk) can design and retrofit UV-C sterilisation equipment in existing facilities and HVAC systems, and has a range of new filtration units.
Similarly, the FagronLab UVGI-80 UV Air Sterilizer (uk.fagron.com) is a plug-and-play air disinfection system for enclosed spaces, such as labs, waiting rooms and gyms.
Construction site-specific tech
Maintaining safety on construction sites and preventing infections can also be aided with the use of technology. To help maintain social distancing rules, there are a variety of products that can automatically monitor and warn workers when they are standing too close together and feed back into centralised systems to generate reports about site safety.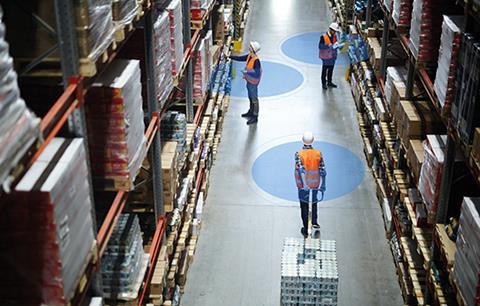 Tended (tended.co.uk) has an ultra-wide-band proximity sensor that can be set to automatically warn workers if they come within two metres of each other, although the minimum separation distance can be changed to suit current guidelines and the work environment. Data can be collected to monitor site health.
EMSOL Work Safe (emsol.io) is a social distancing platform including a fob worn by workers, which lets employers monitor pinch points on sites to control flow and monitor for patterns of repeated social distancing breaches. Work Safe is being used by contractor Mace on site at the London School of Economics.
Meanwhile Cardo Crew (cardocrew.com) has launched the PRO-1, a mesh communication module that can fit inside PPE. It is designed to enable team communication in busy, noisy or hazardous environments, enabling workers to talk without having to be close to one another and improving site safety.
And a fever screening device specifically for construction sites is Sicuro Thermo Screens (sicuro.co.uk), which can detect abnormal body temperatures with accuracy to within 0.3ºC. The screens are quick to install and can be easily relocated.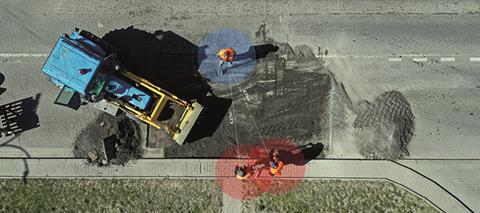 Entry monitors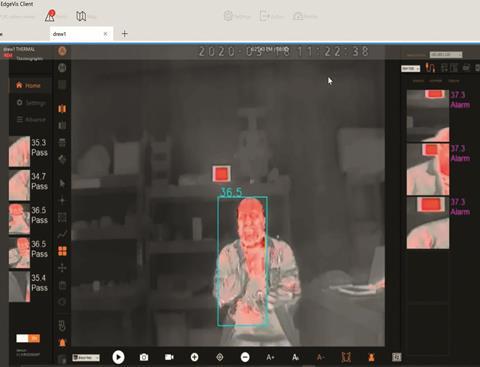 One of the best ways to protect a building and those in it is to prevent sick people from entering, for instance by monitoring for fever. Temperature screening technology can be installed at entrances to completed buildings or on construction sites for automatic monitoring.
A variety of products are available, including Bytronic's automatic elevated body temperature scanner (bytronic.com), which measures body temperature by scanning the area around the tear duct and is accurate to within 0.5ºC. It can be installed at barriers or building entrances.
Digital Barriers and Vodafone (digitalbarriers.com) offer an elevated temperature screening solution, which uses thermal and HD cameras. People whose temperature exceeds the threshold that has been set will trigger the alarm. The system can be installed standalone or as part of a network installation, feeding into centralised control software.