Despite speculation that Churchill, one of the UK's biggest providers of private housing for the elderly, will float, for the moment the business is very much in family control. Boss Spencer McCarthy on why his business model works – and why the firm will be sticking with the traditional design of its homes.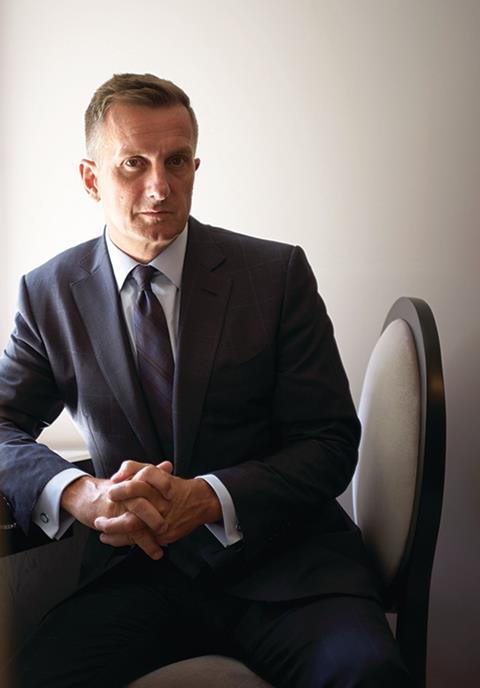 Spencer McCarthy sets great store by knowing his company's customers. The typical Churchill Retirement Homes buyer is 79 years old, female and is a Daily Mail reader, although the firm's chairman and chief executive officer jokes "sometimes, they don't like to admit they are". McCarthy has had a lifetime to familiarise himself with this particular market. In 1994 he left McCarthy & Stone, the firm his father, John McCarthy, founded in 1961, and set up a now strikingly similar business with his brother, Clinton (see "Like father like sons" overleaf). In the retirement homes market, Churchill is now second in size only to their father's former business, a testament to McCarthy's hard work in the intervening years. It's just had its best year yet, though given demographic trends, its role serving this very particular niche in the UK housing market is set to grow still further.

Here, meeting Building on a muggy summer's day at one of the company's latest developments in the Surrey village of Ashtead, 51-year-old McCarthy talks about why he keeps his business model simple and his designs traditional, and why he's lobbying the government for changes that he believes would free up the biggest untapped resource in the UK housing market - the underoccupied family homes in the hands of the over-65 population.

Brexit
2016 was a good year for Churchill Retirement Homes - its accounts show a £62m net profit on a turnover of about £190m, which translates into a margin of 32%. The company sold 589 apartments, a 19.7% increase on the 492 recorded over the same period in 2014-15. Its landbank was 3,190 plots, with a potential gross development value of £950m. "Since then Brexit has slowed things down," says McCarthy.
Housebuilders have largely emerged from last summer's Leave vote relatively unscathed, and many continue to see business grow. However, as McCarthy points out, Churchill does not
benefit from the support of the government's Help to Buy mortgage support scheme, unlike the volume housebuilders. "Only about 3% of our purchasers have mortgages, so Help to Buy doesn't assist us," he says.
The product will always sell better when it's 100% complete. Our customers are very touchy feely and like to see the product
And the company's heartland is in the Home Counties, McCarthy says, which, unlike the Midlands and the north of England, has been strongly affected by the vote: "The more affluent areas like the South-east have been hit pretty hard. It's going to get a lot tougher over the next 12 to 18 months before it gets easier." And ironically, Churchill's customers fit a demographic that overwhelmingly voted for Brexit just over a year ago, a decision McCarthy may not be thanking his customer base for.

Further national events have had an effect on McCarthy's very specific target market and therefore on his business. The Bank of England's move, following the referendum, to halve the base interest rate to 0.25% has also hit Churchill's elderly prospective purchasers, reliant as they are on savings income. And the government's decision to call a snap election on 9 June didn't help either, he adds, dampening sales in the run-up to the latest year end. It's not all doom and gloom, though, he insists. "The last 12 months have been difficult, with Brexit uncertainty in the market but we've been able to maintain margins," he says, adding that Churchill still has plans to double its output medium term from just under 500 in 2015. It seems he's edging ever closer to his old firm McCarthy & Stone's 2016 total of 1,500. And, a serious polo player outside the office, McCarthy is nothing if not competitive.

Simplicity
While the circumstances McCarthy faces can be complex, he counters it with a tried and tested approach, what he calls "keep it simple". His formula is clear: the company's core product is one to two-bedroom flats with an average selling price of £316,000 in schemes that tend to contain 30 to 40 flats. Owners have access to a communal lounge with an on-site office for a manager. The biggest development in the company's current pipeline is a 75-home scheme outside Southampton. The ideal location for a Churchill development is within walking distance, generally about half a mile, of a town centre or a good secondary shopping location, like the scheme in Ashtead where we meet. The sites that Churchill snaps up are all brownfield, he says, most often a pub or care home that has closed down, or a redundant office building.

Though Churchill has seen little negative effect on labour costs from Brexit - "the only real impact has been subcontractors in the M25 going down the road to get more money," he says - it tends to steer away from sites in London. "We don't really go into town centres: it's a different product and I don't believe it necessarily works in city centres." In its traditional territory, Churchill often finds itself competing for its sites with other retirement home providers because they are generally too small to interest the volume housebuilders, while local builders will struggle to raise finance. If it does target town centres, it can be in competition with the booming discount supermarket chains like Aldi and Lidl.

Churchill's approach may look a little counter-intuitive in the light of the mini-revolution that the retirement housing market has seen over the last couple of years. The developer Pegasus, which is backed by US private equity money, has made a splash with a series of new developments that are a lot more upmarket than those that have tended to define the sector ever since McCarthy's father built up the eponymous McCarthy & Stone.

Our philosophy is all about control of margins and net profitability: we're very disciplined on build cost
Pegasus' developments include one at Somerset County Cricket Club in Taunton, where residents get life membership when they buy a property. No such bells and whistles are on offer for would-be Churchill purchasers. And while others are experimenting with modern architectural solutions, McCarthy is not afraid to be painted as slightly fuddy duddy. "We like to build more traditional developments, we are very well geared to building this type of development. If other retirement housebuilders want to build more contemporary we are quite happy for them to do that," he says, adding that the company has had its "fingers burnt" on a couple of scheme when it opted for modern designs. The homes at the Ashtead scheme have bright decor, but traditional designs.But while his customers prefer traditional designs, planners aren't so keen, he says. Councils pushing for contemporary designs is often the main reason that the companies end up going to appeal. The company is quite happy to do so, McCarthy adds, pointing to the 80% success rate that the company achieves when it refers decisions to the Planning Inspectorate in Bristol.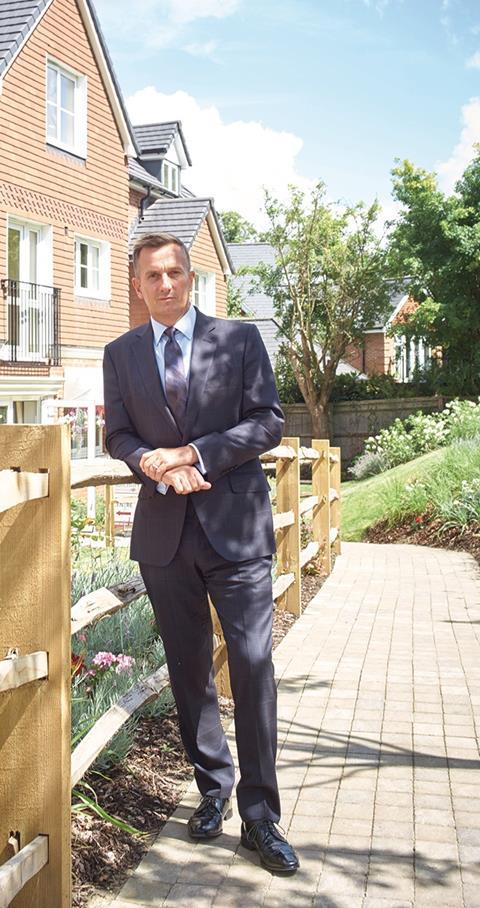 Control
As well as being simple and traditional, McCarthy has another rule: "Our philosophy is all about control of margins and net profitability: we're very disciplined on build costs." One of the ways he keeps cost down is to be as self-sufficient as possible, employing his own land buyers, architects, and surveyors. He says that by doing things in-house, Churchill is better able to keep costs under control. "We are able to control our design and build costs, which can run out of control when an architect gets carried away designing something he likes but doesn't necessarily meet the needs of our customers. We are very focused on providing an affordable product: to do that we need to control build costs."

Subcontractors aren't employed in house but the company uses the same firms wherever it develops, meaning its teams can hit the ground running. "Our subcontractors know exactly what they are building so its value for money for them." "We are very disciplined on our bottom line margins and are able to achieve that through our designs. Build costs can significantly overrun through modern building." Despite a strong focus on cost reduction, Churchill has made little use of off-site construction although McCarthy says the company is looking at making greater use of modern techniques.The company already uses pre-assembled kitchens and bathrooms and Churchill isn't totally averse to modern solutions, he says, pointing out that all of its schemes come equipped with ground source heat pumps.
Keeping things simple extends to maintaining the company in family ownership. Being in private hands gives Churchill the luxury of being able to hold back sales, he says. It sells some units off-plan but the bulk of the purchases will take place when its schemes have taken shape. "The product will always sell better when it's 100% complete. Our customers are very touchy feely and like to see the product." To persuade its customers to buy off plan would involve offering incentives, which goes against McCarthy's grain. "It's how we are able to maintain our sector-leading margins. Our policy is not to chase turnover," he says. And he doesn't have to look over his shoulder. "We are able to make decisions a lot quicker. We're not having to answer to the markets, we're not looking to chase turnover. There are many advantages to being a privately owned family company. I only have to answer to my wife."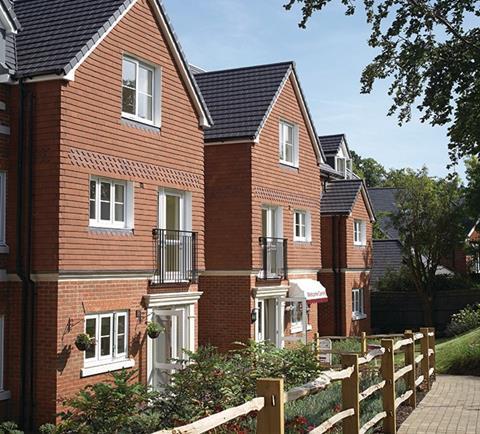 Future
McCarthy acknowledges that there has been media speculation that the company will float, and laughs when the topic of going public comes up, saying "I thought you would ask me that" - but will not be drawn, saying that Churchill is constantly looking at its "various options." In the meantime, McCarthy continues to lobby the government around retirement housing issues. While the government is keen to boost housing numbers, much of the country's stock that could be suitable for families belongs to Churchill's elderly potential customers. "If they can encourage more retirement housebuilding, they could release a lot of under-occupied stock onto the market."

Retirement housing developers though face disadvantages. Typically, around 20% of a Churchill scheme's floorspace is allocated to communal areas, all of which is liable for community infrastructure levy, that the volume housebuilders don't have to pay on their individual units stock in trade. Churchill would like to see the government lift community infrastructure levy payments on these common areas.The retirement market is also held back by the way stamp duty works. Exempting "last time buyers" from the tax would encourage many of Churchill's "asset rich and cash poor" would-be customers to sell up, McCarthy says, releasing more homes onto the market. Given how political uncertainty has given Churchill a kick in the teeth over the last year, you get the feeling McCarthy would like some good news from politicians for a change.

Like father like sons
No name is as closely linked with UK retirement housing as McCarthy. The name remains above the door at McCarthy & Stone. Set up by Spencer's father John McCarthy and his partner Bill Stone in 1961, the company remains the UK's leading provider of private housing for the elderly. Spencer started his career as a carpenter and worked in his father's business. And family clearly matters in the clan McCarthy. When Spencer and his 52-year-old brother Clinton branched off to set up their housebuilding business in 1994, they called it Emlor, which amalgamates the given names of the latter's daughters, Emma and Laura. Emma, 28, now works in Churchill's land buying deparment. Then when he left McCarthy & Stone in 2004, John invested much of his £74m stake in his sons' business, which promptly changed tack to the family business of providing retirement housing. The family trust remains the only backer of the company, which was renamed Churchill Retirement Homes.

The two younger McCarthys remain at the helm of Churchill, Spencer as chairman and chief executive and Clinton as managing director. McCarthy senior, now aged 76, remains a non-executive director, but has "no day to day involvement," according to Spencer. "He will ring me up to ask how sales are going, he trusts us to know what we're doing and is happy to see the returns." "He's busy golfing and making furniture in the big workshop on his estate. He enjoys getting away from the business life." Spencer McCarthy, meanwhile, has no eye to retiring, known for prioritising family, work and polo. And it seems his son James, 20, shares the same philosophy: as well as playing on his father's polo team, he is soon going to join the business - so this quintessentially family firm may stay in the family for quite some time yet.