Construction Scotland Innovation Centre (CSIC) will be home to a 'sustainable timber district' next month as part of BE@COP26 11-day free showcase
Running alongside COP26 from 1-12 November, the sustainable timber district at CSIC's Innovation Factory in Hamilton, near Glasgow, is set to highlight the role of timber in shaping the future of the construction sector.
As part of the wider BE@COP26 showcase, a collection of timber demonstrator projects, exhibits and live workshops will show visitors from the sector and beyond how the low-carbon material can be at the centre of a more sustainable built environment.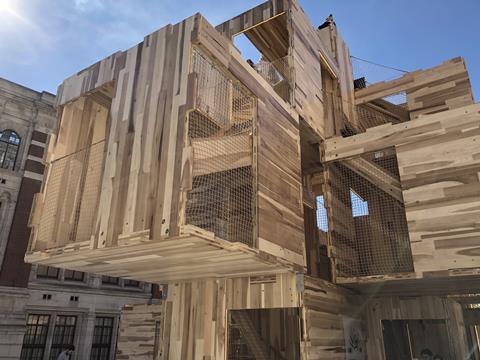 According to a report by the Committee on Climate Change, increasing the number of new homes built in the UK using timber frame systems from the current 27,000 to 270,000 annually could save as much as 10 megatons of carbon dioxide equivalent by 2050[1].
Among the organisations championing the role of timber in construction is Wood for Good, which aspires to make wood a first-choice material in design and construction by highlighting the range of benefits and sharing best practice from the sector.
Wood for Good has partnered with CSIC to bring a one-day conference on timber construction to the Innovation Factory on 2 November, highlighting the importance of using the low-carbon material to shape the built environment.
Sarah Virgo, campaign manager at Wood for Good, said: "One of the simplest ways to capture carbon and reduce CO2 in the atmosphere is by increasing the use of wood in construction. While timber is used for a broad range of applications in the construction industry, there remains a huge opportunity to reduce CO2 by making it the first-choice structural material for projects as diverse as housing, schools, care homes, offices, and hotels. BE@COP26 provides the chance to share knowledge and raise awareness of the possibilities for timber construction that can be adopted at scale."
The possibilities of homegrown timber
Until now, timber grown in the UK has largely been used for non-structural applications, such as fencing materials and pallets, alongside repair, maintenance, and improvement activities. That could be set to change, and one aim of the sustainable timber district is to demonstrate the opportunities for using homegrown engineered or mass timber components for the fabric of homes and other buildings.
One of the driving forces behind that is ECOSystems Technologies, a company at the forefront of innovation in timber construction and the growth of the sub-sector. It has played a critical role in delivering many of the exhibits set to be displayed as part of the sustainable timber district, such as the NearHome demonstrator, part of the Scottish Government's 20-minute neighbourhoods initiative, and GenZero, a prototype low-carbon classroom designed by the UK government's Department for Education.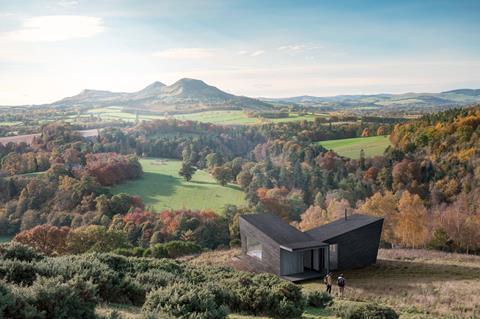 The HideAway Cabin – one of the first designs to come from Off Grid Travel, which offers sustainable accommodation through high performance, energy efficient buildings that use renewable resources – will also be at the Innovation Factory for the two-week period.
Matt Stevenson, founder of ECOSystems Technologies, believes that COP26 is certainly not the end point, rather a punctuation mark in the journey towards a more sustainable built environment. He said: "The focus on homegrown mass timber is accelerating, but as well as the technical and engineering challenges, we also need to change the perceptions associated with UK forestry products. We have a fantastic regenerative, low-carbon resource on our doorstep that there is a clear opportunity to do more with and continued innovation and collaboration can help to make that happen, with COP26 as the catalyst for change.
"One of our main roles is as the commercial accelerator, supporting and demonstrating the viability of sustainable concepts and prototypes, delivering applied innovation, and acting as the glue between research and industry. Driven by a combination of digital technology, technical innovation and expertise in timber, we are looking at ways of using our homegrown timber resource as effectively and efficiently as possible. It's a circular approach, with the aim of ensuring the captured carbon has maximum impact and remains in the cycle for the longest possible time.
"We have worked closely with CSIC for a number of years and, with part of our operation already based at the Innovation Factory, it is fitting to be playing such a big part in delivering the COP26 timber showcase. We're looking forward to welcoming visitors and industry professionals to the centre next month to put timber construction at the heart of the conversation on sustainability."
ECOSystems Technologies is a core partner of the Transforming Timber initiative, which is responsible for the UK's first two-storey modular home manufactured from homegrown engineered timber – and also forms part of the sustainable timber district. Supported by Edinburgh Napier University's Centre for Offsite Construction and Innovative Structures, the University of Edinburgh and BSW Group, the unit is the first cross-laminated, nail-laminated and glue laminated timber housing unit to be built with materials grown, harvested, and engineered in Scotland. Earlier this year, the project was awarded £1.45 million of funding from Innovate UK's Small Business Research Initiative (SBRI) to create the fully functional prototype.
The demonstrator was initiated by SNRG, a Centrica backed company, which is on a mission to enable the construction sector to build a liveable, zero carbon future today. It provides an end-to-end service designing, funding, building and operating local energy systems (Microgrids) that reduce the cost and complexity of the all-electric, zero carbon transition for new housing projects.
Dan Nicholls, managing director of SNRG SmartGrids, said: "While our integrated approach resolves the grid connection and operational cost and carbon problem for new housing, the problem of the embodied carbon of construction remains. We believe locally grown timber homes powered by locally generated renewable electricity provides the construction sector with a viable pathway to a liveable, zero carbon future and wanted to understand how our solutions would integrate with the homes of tomorrow."
This was the driver for what has become the Transforming Timber project. Richard Scott, chief design officer of SNRG, said: "The design seeks to integrate sustainable building fabric principles and smart technologies into a viable home to show how a net zero carbon future, powered by the SNRG SmartGrid, can be accommodated with comfort and beauty today. Simplicity is a key driver inside the home; with mass timber expressed in its natural state for all but the 'service' areas, embracing volumetric modular production to create an aesthetic of calmness and elegance."
This approach will benefit developers and residents by reducing grid connection cost and delivery time by 50%, save residents 30% on their bills and reduce operational carbon emissions by 97% and embodied carbon by 100%.
Beyond the UK's forests
Alongside the focus on homegrown wood, the sustainable timber district will also point towards the international nature of the zero-carbon challenge and the importance of conservation in tropical climates and rainforests. Cities4Forests will bring its Partner Forest Programme to life through a boardwalk made from wood sourced from Guatemala and Guyana - an initiative designed to link cities with tropical forests to support conservation and help sequester millions of tons of carbon.
Refreshments will be also available from the Partner Forest Food Truck, which offers hot drinks sourced from tropical forest communities.
Scott Francisco, co-founder of Cities4Forests, said: "The Sustainable Wood for Cities platform enables cities to consume wood products sustainably, and we'd invite anyone interested in learning more to come and see us at CSIC next week."
Scott will present the organisation's eight-step process, which allows city procurement officials and design professionals to select and compare wood products from around the world to achieve the highest level of sustainable benefits.
He added: "In addition to timber, cities are often unaware that their everyday consumption can be directly linked to tropical deforestation - through commodities like palm oil, soy, beef, coffee, cocoa, rubber and wood – but we have developed a Partner Forest Program that and enable cities to source these products in a way that supports the conservation of tropical forests."
To find out more about the free BE@COP26 showcase and sustainable timber district, visit: be-at-cop26.org
[1] https://www.theccc.org.uk/publication/wood-in-construction-in-the-uk-an-analysis-of-carbon-abatement-potential-biocomposites-centre/