The installation of the high-performance insulation material CALOSTAT® in the facade contributed to the energy balance of this 16-story apartment building with 50 parties, located in Muri in the Swiss canton of Bern
This apartment building, certified according to the Minergie standard, is located in the tranquil town of Muri in the Swiss canton of Bern. Minergie is a registered trademark of sustainable construction, owned by the Minergie Association with head offices in Bern, and represents the highest energy standard in Switzerland for low-energy buildings.
The use of the high-performance insulating material CALOSTAT® in the building's facade contributes to its energy balance. In some parts of the building there is a demand for high-performance insulation materials. Using CALOSTAT®, which has a much better thermal performance than other non-combustible materials, the thickness of the insulation layer can be significantly reduced.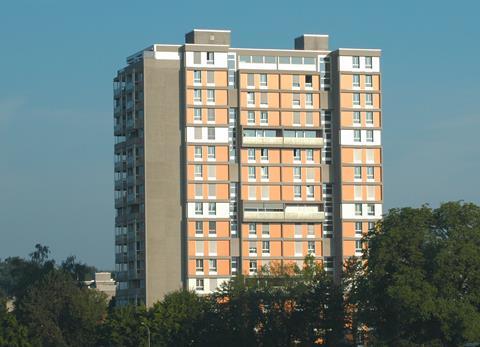 This is especially the case in balcony areas and roller shutter cabinets. Due to the different lintel and sill length of the windows, the elements were easily trimmed to size during the installation on site. The sheets were secured to the substrate with dowels and then covered with sheet metal.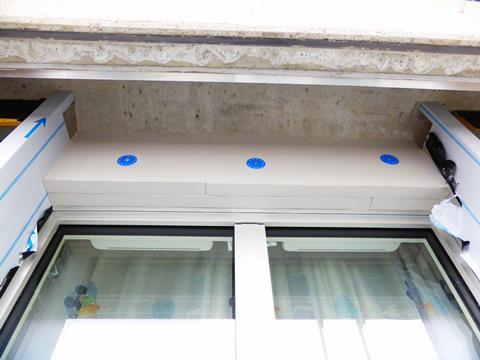 CALOSTAT® was installed in the areas of the lintels (external blinds) and in the parapet areas of balconies, in each case using two layers with a thickness of 50mm.
High-performance insulating sheets made of CALOSTAT® have a compressive strength of >90 kPa and do not contain any fungicides, algicides or pesticides.
The sheets are not only completely harmless but are also easy to cut to size on site without affecting the quality of abutting joints. CALOSTAT® is safe and easy to handle for installers.
The purely mineral raw material also ensures excellent product properties: CALOSTAT® is a Class A (non-combustible) building material, is neutral in reaction to other composite materials, and contains no fogging enhancing ingredients.
In contrast to most fossil insulating materials, the sheets are fully recyclable. All of this not only makes CALOSTAT® an excellent safe thermal insulation, but contributes to the comfort of the tenants and enables a high standard of healthy living.
For more information click here