The demand for more connected homes is here to stay and the industry needs to ensure it stays apace
As a nation, the pandemic shifted the way we lived. It created a new hybrid lifestyle that has dramatically changed the way people view their homes with many Brits wanting more outdoor areas; bigger flexible spaces, more natural light and more everyday conveniences to get things done effectively in their fast-paced lives.
This gear change in lifestyle has fuelled a shift in consumer attitudes towards what they want from their homes. With a Samsung Electronics UK study* highlighting that over two thirds of UK residents want a digitally connected property to help save them time and effort in their lives.
This rising tide of change to live more flexibly with better connected homes is putting housebuilders under pressure to deliver smarter, multi-modal homes which puts technology at the heart of them.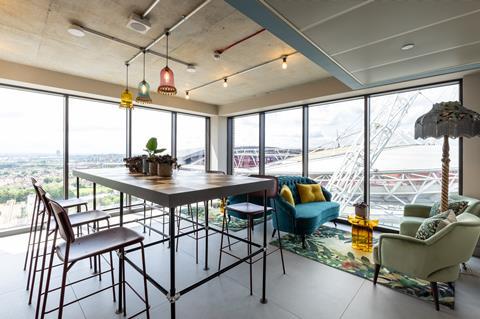 "With the rise in remote and hybrid working, and a blending of the spaces where we work, live and play, it's no surprise that how we look at our homes has changed significantly. More time at home has shone a spotlight on how crucial technology is to our lives." said Murtaza Bukhari, GM – Strategic Partnerships Samsung Electronics UK and Europe. "Property developers, construction firms and designers all need to listen closely to demand and create spaces that are smarter, more energy efficient, powered by tech and influenced by residents' priorities."
Samsung collaborates with partner organisations across the construction and private residential sectors to help shape the properties of the future. Together, with brands such as Etopia Group, Future Generation, Moda Living, and Quintain, Samsung is creating smarter, more connected spaces that are powered by technology.
One example of how a technology-led mindset is shaping the homes of the future is Samsung's partnership with leading Build to Rent and mixed-use development, investment, and asset management specialist, Quintain.
As the world's leading technology company, Samsung provides bespoke expert-led service and a one-stop-shop of premium products, from appliances to IoT, that both resonate with consumers while enhancing their lives through connected technologies. The focus of this partnership is to collaborate during the construction of the giant flagship site at Wembley Park to build an unparalleled offering of hybrid living that finds the balance between work and play, in one environment.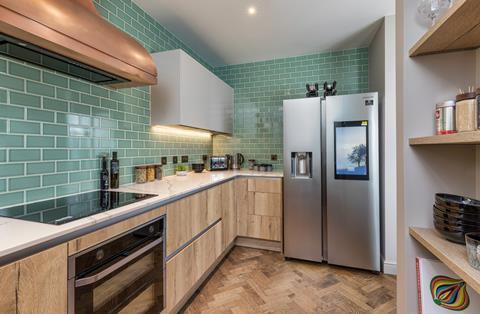 So far at the Wembley Park site, over 3,000 apartments have been kitted out with Samsung's latest connected appliances including smart fridge freezers, ovens, hobs, dishwashers, and washer dryers. Samsung air conditioning units were installed in the communal areas. Quintain's ambition at Wembley Park doesn't stop there, as it is set to increase the number of homes to 8,500+ upon completion, making it the biggest BtR development site in the UK.
As part of the rollout, Samsung has installed its state-of-the-art appliances not only in the apartments but also in the shared social spaces, which are part of Quintain Living's all-inclusive lifestyle offering. Samsung's connected devices include its 'Family Hub' fridges, which have built-in cameras allowing residents to see exactly what is inside their fridge from their mobile phone and track the freshness of food items. With a connected fridge, residents can order groceries directly from the panel on the fridge door, surf the web or play music from the appliance while they cook.
Through listening to consumer needs, Samsung and Quintain are enabling hybrid-first living experiences with developments like, The Robinson, where residents are able to enjoy a home that has the ideal blend of style, homeliness and functional space. There is a range of apartment sizes, resident gardens, work-from-home lounges and a roof terrace offering sun loungers and work-from-home caravans – with connected appliances from Samsung allowing for a fully seamless set-up, making life that little bit easier.
Keeping up with the fast-evolving consumer trends is vital for housebuilders. As the world adjusts to a new era in hybrid living, the demand for more connected homes is here to stay and the industry needs to ensure it stays apace.
Find out more about how Samsung is partnering to create the homes of the future here: Samsung.com/uk/construction
*Samsung Electronics UK commissioned survey with 2,000 homeowners, renters and university students in August 2021 explores the shift in attitudes and what consumers demand from housing since the pandemic.