This £617m Herzog & de Meuron project was originally costed at less than £60m and scheduled to complete in 2010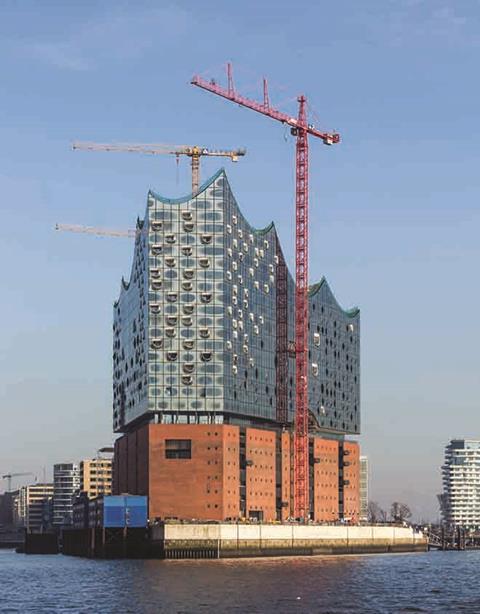 2016 is set to be the year that several long-delayed projects finally complete, and others will hopefully get off the ground. Building's look at some of the highlights to come in the year ahead continues with the Hamburg's Elbphilharmonie​ Concert Hall.
Hamburg, Germany
This year will be a busy one for Herzog & de Meuron with not one but two chronically delayed and vastly cost-inflated projects completing. Along with the perennially unfinished Berlin Brandenburg Airport, the traumatic gestation of the Elbphilharmonie Concert Hall is sharply at odds with the trademark Teutonic reputation for organisational efficiency. The £617m project was originally costed at less than £60m and was scheduled to complete in 2010, just three years after construction began. But its programme was decimated by a debilitating series of technical and funding issues including strengthening of the roof of the former cocoa warehouse structure on which the new development is improbably perched. Even the October 2016 construction completion date has strings attached, the venue is not expected to fully open to the public until January 2017. But when it does Hamburg will doubtless be met with a memorable edifice that at 110m is already the tallest inhabited structure in the city. Its extraordinary glass envelope and marquee-like roof also optimise their dramatic promontory location on the banks of River Elbe. And the building will also set something of a usage precedent too, as well as the concert hall it will also house flats and a hotel.