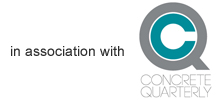 The Sainsbury Laboratory - winner of the RIBA Stirling Prize 2012
Stanton Williams, AKT II and Kier discuss the design, specification and construction of this world class laboratory. Produced in association with Concrete Quarterly.
The Sainsbury Laboratory is a plant research centre set in the grounds of Cambridge University's botanical garden. Funded by the Gatsby Foundation, it was designed to bring together world class scientists and has been shortlisted for the RIBA Stirling Prize 2012.
In this short film, Alan Stanton, Director of Stanton Williams; Albert Williamson-Taylor, Director and Founding Partner of AKT II, and Louisa Finlay, Operations Director at Kier, discuss with a particular focus on concrete how they brought this extraordinary project to life.
RIBA comments: "This building is an exciting new typology, with spaces for research juxtaposed with those for education; the private and the public; the highly-technological nurture of nature with the simple enjoyment of an extended botanic garden."