The good news is showhomes and sales office can now reopen, but the route to recovery is still far from certain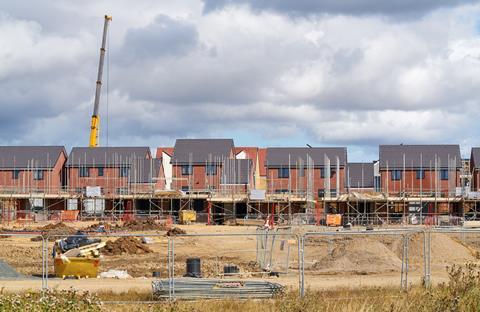 Given this week's shock announcement of a sudden restart to the housing market, and Boris Johnson's wider easing of current lockdown measures you may be tempted to feel a surge of optimism that everything is going to be all right in the end. After all, we have endured six long weeks of lockdown and the world – if you have not suffered a personal or family tragedy from covid-19 – has not ended: the NHS was not overwhelmed; restrictions are beginning to be eased; housebuilders and housing associations are everywhere trumpeting plans to re-open construction sites; and the talk among many is moving to managing the recovery.
Clearly this week has been a welcome tonic for those in the sector that fear the impact of a prolonged shut-down of the industry. But let us not get ahead of ourselves
Clearly this week has been a welcome tonic for those in the sector that fear the impact of a prolonged shut-down of the industry. But let us not get ahead of ourselves: For the economy, and by extension the residential development industry, the test posed by covid-19 has only just begun. Here is why.
The good news …
Certainly there has been some good news - indeed more of it than we might have dared hope when Boris Johnson announced lockdown on 23 March. The most obvious, already mentioned, is the restarting of the housing market, sprung on the sector overnight on Tuesday. With showhomes and sales offices now able to re-open, the sector can potentially start to both take reservations and complete the sale of new homes.
This comes after weeks in which construction sites have been re-opening – at least 600, representing nearly a fifth of current live sites. Housebuilders that last year were responsible for producing more than 80,000 homes are now engaged in a phased re-opening, and most others (outside Scotland) will surely follow, meaning fears of a prolonged shut-down will not be realised.
And the biggest housebuilders, on which the industry most relies, have proved themselves to be – unlike 2008/9 – in financially good shape and able to withstand the strain of largely not selling anything for a couple of months. There have been no major developer failures or even, so far, significant supply chain bankruptcies.
There is also no clear evidence that house prices are plummeting. Yes of course the volume of transactions has plummeted to record lows, but the Halifax's best guess is that prices fell by just 0.6% in April – hardly a death spiral. Estate agents and housebuilders are reporting that, while government guidance makes completing sales very difficult, transactions agreed before lockdown are holding up – for the most part, buyers are not walking away and chains are not collapsing. If the general public was working on the assumption their jobs will evaporate in the next six months, this is not what you expect to see. Dominic Agace, chief executive of London-focused listed estate agent chain Winkworth told me last week: "It's actually been amazing how little business has fallen away."
The continuing need for social distancing will mean that productivity on building sites is seriously affected – by anything between 30-50%
Indeed, online property listings agent Zoopla last week released a slide from its own listings data showing that while genuine demand for property has effectively halved since the start of March, people are still browsing for new homes, with the number doing so having only fallen back to the level it was at the same point last year.
So, the bad news has to be put in this context.
The not so good news …
But there is still plenty to be worried about. While the government has tackled the most important issue this week - that there has been no functioning housing market – it is by no means clear how quickly housebuilders will be able to get sales function up and running again, and when buyers are content to start visiting sites.
Which means housebuilders may have to live with little or no revenue for some time to come. And while the listed firms are in pretty good shape, there will be plenty of smaller developers, particularly those building out apartment buildings with a very high outlay prior to any cash coming back, that will be starting to feel an icy chill down their back.
This is essentially a short-term problem, however.
More long term is that the continuing need for social distancing will mean that productivity on building sites is seriously affected – by anything between 30-50% according to the Construction Products Association. Who bears the cost of this fall in productivity will vary from case to case, but either way it is hard to see housebuilding rates recover to anything like their normal level, and it is hard to see housebuilding as an activity being anything like as profitable as it normally is.
Hence Cenkos analyst Kevin Cammack said on Monday that Johnson's announcement made two things very clear: first, that it will be a "long haul" to recovery; and secondly, that "the (operating) cost of doing business for most companies in the sector will rise and for most there could be a structural shift in gross and/or net margins. I see very few that will revert to pre-covid trading levels, never mind profitability."
While we know that the government's furlough scheme will continue unaffected for a couple more months, and in a less generous form from August until October, it is not clear what other government help will be available. The furlough scheme will be unlikely to be appropriate for business that have already returned to work on site and are now having to re-populate their sales functions too.
From what detail is available, the realisation will be dawning on many housebuilders that a large part of this recovery period is likely to have to be faced without the extensive and extraordinary help offered by the government till now during the full lockdown.
So, while housebuilders have subsisted with government-backed loans and furlough payments for six weeks, it is not at all clear they can expect to be able to trade profitably if and when they are withdrawn. This week's roadmap had a clear direction of travel: "these measures are extraordinarily costly and cannot be sustained for a prolonged period of time", it said, "as the UK adjusts the current restrictions, the government will also need to wind down the economic support measures while people are eased back to work."
All of this is ignoring the biggest unknown factor in determining the future health of the sector: the wider economy. The Bank of England last week published a "scenario" envisaging a 14% collapse in GDP this year – the worst in 300 years – which will see house prices slump by 16%, before an equally sharp recovery in 2021.
But while this year's collapse is pretty much baked in, the question of whether the economy will be able to snap back in to shape next year is anyone's guess. One thing that is clear is that if the lockdown lingers, forcing many employers to lay off staff, then the chances of a quick recovery decrease as the number of people without regular work increases. At that point the fundamentals of demand to buy homes, which were very strong at the start of the year, start to be affected.
All of which is not to say we are heading to hell in a handcart, but merely that the unprecedented challenges recently faced will not recede – though as work restarts they will undoubtedly change.
With the VE-Day memorial in recent days having heightened comparisons between the current struggles and those of 1939-45, it is tempting to wonder what Churchill would have made of this moment. To paraphrase his 1942 comments on allied victory in El Alamein, this looks much more like the end of the beginning of this crisis than the beginning of the end.
This article was first published by Building's sister title Housing Today
Joey Gardiner, Housing Today contributing editor