Building's annual list of the UK's biggest performers in the construction sector shows that housebuilders have enjoyed the past 12 months most. But many predict the tides are ready to turn for contractors, as Joey Gardiner reports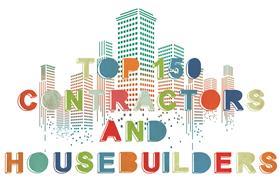 The last 12 months have seen an about-turn in the economic fortunes of the UK. Housebuilders have been in clover, responding to a recovery driven by government support in the form of Help to Buy and rebounding consumer confidence. But for contractors, the increasing new work coming in hasn't yet fed through to their published figures. As far as their profit margins go, it may as well be mid-recession. The hard yards are still to come.
It's no surprise then that Building's annual Top 150 Contractors and Housebuilders tables, based on the most recently published figures from the sector's biggest firms, shows housebuilders – particularly the listed variety – creeping up the tables, while contractors (with one or two honourable exceptions) are largely in stasis. Much of this change is simply cyclical, with contracting a lagging indicator of economic growth, while the housing market leads the charge. And there is no doubt contractors are winning more and more work. For example, Skanska UK this week said it is recruiting an additional 1,500 staff in the UK to deal with its predicted increased workload. So with some commentators suggesting the housing market may already be stuttering, and housebuilder share prices dropping in the past three months, contractors are desperately hoping that this is the point the tide starts to turn back to them.
Overall, the 2014 Top 150 shows the turnover of the UK's biggest housebuilders and contractors to have risen modestly by just over 2.5% in the last year, to £84.7bn. It's not hard to see where the growth - what there has been of it - has come from: housing. The top 20 housebuilders alone account for nearly all of that rise, seeing a £2.4bn turnover increase, up almost 15% by pulling in a total of £19.2bn of revenue. In contrast, the top 20 contractors, while still much bigger overall than their housing counterparts with over £40bn in turnover, have seen revenue grow by just a few hundred million pounds. This is growth of just a fraction of 1%, despite the recovering economy.
And there's no doubt who is making a return from all this business. The average pre-tax profit margin of the firms working as contractors is just 2.8%. However, for housebuilding businesses it is almost 10%, and for those quoted on the stock exchange it is more than 13%.
Hence the major changes in the order of this year's Top 150 reflect this ongoing surge, with a third housebuilder (Persimmon) making it into the top 10. Barratt, the largest housebuilder by turnover, moves from sixth place to fifth; Taylor Wimpey, with turnover growth of almost 14%, leaps up from 10th to seventh; and Persimmon nudges forward from 11th to 10th (see page 31). Chris Millington, analyst at Numis, says: "This year of figures will be the best year of growth for housebuilders, because they're comparing to the period before Help to Buy was launched. They'll struggle to match it going forward."
Alastair Stewart, analyst at Progressive Equity Research, puts it another way: "For housebuilders, we have got beyond the point where it is as good as it gets, and for contractors, we've got past the point where it is as bad as it gets."
It's no use filling our order books with problem jobs. We have to be as selective in a good market as we are in a bad market

Paul Chandler, Skanska UK
But, Millington insists, this doesn't mean that the good times are over for housebuilders. Far from it, despite fears over increasing mortgage regulation and interest rate rises taking the steam out of house price rises. "Yes this'll be the best year of growth, but will they go on to make higher revenues and profits? Yes they will," he says. "They're all predicting higher volumes, and margins improving on a combination of changing the types of homes they're building and using more land bought after the recession at lower rates."
"To start talking about this being mid or late- [housing market] cycle is premature. There's potential for year-on-year growth to 2020."
And while some are more pessimistic about the housing market dynamic, even they admit that whatever happens from now, housebuilders will report strong growth in 2014 figures simply from homes already pre-sold. Progressive Equity Research's Stewart says: "It'll take a while for any downturn to feed through to housebuilders' profit and loss."
The positive view is backed by Greg Fitzgerald, chief executive of Galliford Try, which made £639m in sales through its housebuilding business, Linden Homes, last year. "Yes some of the froth on the market has come off in the last couple of months, but this will just make the growth we expect more sustainable. Margins will continue to rise in housing, but we won't necessarily do double-digit growth every year. I'm happy with 2-5% price inflation, it's more sustainable."
But Fitzgerald agrees that the cycle has now turned for the contracting side of his business. Galliford Try is one of the big success stories in this year's Top 150, leaping up from 14th to eighth largest contractor (see page 41) on the strength of its acquisition this month of Miller Group's contracting business (the numbers include Miller's construction turnover on a pro forma basis). So there must be a reason why he is betting on a major construction acquisition, rather than expanding his housing business.
"I hope that this is the right point in the cycle to make the acquisition. It's a reasonable assumption that this is the lowest point for contractors, with last year being the low point for margin and turnover."
For housebuilders, we have got beyond the point where it as good as it gets, for contractors, we've got past the point where it is as bad as it gets

Alastair Stewart, Progressive Equity Research
This positivity is matched by Skanska, which rose by one spot in the Top 150 (see page 31) on the back of a 11.3% turnover rise to £1.22bn, and sees further growth ahead. Paul Chandler, executive VP for Skanska UK's building division says: "We've done well in recent years in a number of different areas including infrastructure and utilities. But certain parts of the market that have been fairly quiet, such as London commercial building, are now picking up, and a number of very good opportunities are coming our way."
Understandably, however, a return to more reasonable margins is the pre-eminent concern. "It's no use filling our order books with problem jobs. We have to be as selective in a good market as we are in a bad market." Key to this is working with suppliers in order to keep construction inflation under control. "Cost inflation is one of the things we've got our eye on. It comes down to how you've treated your supply chain during the last five years, and that's how they'll treat you over the next five years when things are good," Chandler says.
The hangover of work bid at wafer-thin margins 18 months ago, and price rises from suppliers in the current market all adds up to mean that, despite the improving picture, contractors are unlikely to surge out of the blocks. "You won't see much recovery in profit margins even this current year," Stewart says. "You may see the cash profile improve as workload picks up, [but] margins will be poor for a while. It'll be a couple of years still before growth starts to feed through."
So while the picture is improving for the UK's biggest contractors, they will have to wait a little bit longer before they start to challenge the housebuilders for turnover growth and financial performance.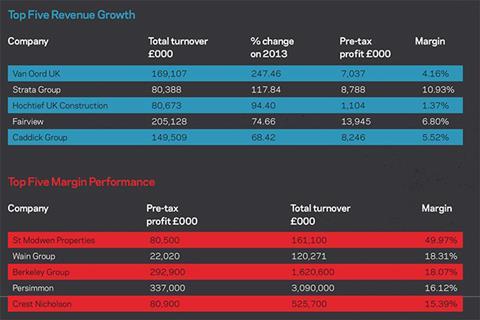 Top three housebuilders
Barratt
Revenue £2.61bn
Pre tax margin 7.4%
Homes sold 13,663
Net cash/debt -£25.9m
The UK's number one housebuilder by turnover has retained its top spot with 12% growth in revenue in 2013. All of this growth was delivered from a quicker turnover of sales, with the firm operating from exactly the same number of open sites in 2013 as in 2012. After being laid low by the mistimed acquisition of Wilson Bowden just before the credit crunch, Barratt appears to be back on track. It has told the City it is unlikely to attempt to grow beyond producing 16,000 homes a year, choosing to focus instead on driving profitability from the existing scale of business.
Taylor Wimpey
Revenue £2.3bn
Pre tax margin 13.3%
Homes sold 11,696
Net cash/debt £5m
Taylor Wimpey currently holds the title of being the UK's largest housebuilder by volume of homes sold, and has seen similar revenue growth in the last year to its rival Barratt. However, Taylor Wimpey, despite suffering a similarly catastrophic recession to Barratt, where it at one point posted a £1.5bn six-month loss and teetered on the edge of going under, is now far more profitable than its rival. With a target size of 14,000 homes per year, the big decision for Taylor Wimpey's management is whether to return cash to shareholders in the same way as Persimmon and Berkeley Group have done.
Persimmon
Revenue £2.1bn
Pre tax margin 16.2%
Homes sold 11,528
Net cash/debt £204m
In 2012 Persimmon unveiled a strategy designed to see £1.6bn returned to its shareholders over a nine and a half year period. It's performance since has enabled it to accelerate the promised payments, with sales volume, revenue, profit, margins and return on capital employed all improving since it launched the plan.

Top three construction firms
Balfour Beatty
Revenue £10.1bn
Pre tax margin 0.31%
Net cash/debt -£420m
Employees 14,086
Given Balfour Beatty's woes over the last 12 months, with multiple profit warnings relating to its UK construction business, it is tempting to forget how truly dominant it remains in terms of scale, with revenues more than two and a half times its nearest UK rival. However, more than half of its revenue is now from abroad, and its UK construction business in particular has shrunk dramatically. After the 2013 results were announced, Balfour Beatty chief executive Andrew McNaughton resigned and acting executive chairman Steve Marshall is now looking to sell the £1.7bn professional services division of the deeply indebted group.
Carillion
Revenue £4.1bn
Pre tax margin 2.7%
Net cash/debt -£215m
Employees 25,915
The contractor in 2013 completed its three year programme to downsize its UK construction business, and by pitching for and winning the £400m first phase of the Battersea Power station construction job has made it clear it is now on a growth path again. While strengthening its businesses in the Middle East and Canada in recent years, it has struggled to justify its 2011 acquisition of energy services business Eaga for £300m. Carillion's large net debt is partly explained by its large support services business, which generates less cash up front.
Laing O'Rourke
Revenue £3.6bn
Pre tax margin 1.6%
Net cash/debt £410m
Employees 15,351
Group chief executive Anna Stewart's first year in charge of the contractor saw a raft of senior management changes, but also the stabilisation of the problems that have beset its Australian division in recent years. Laing O'Rourke stalwarts such as Steve Hollingshead and Roger Robinson are now no longer with the business.
Notes
* Results are taken from parent accounts and converted from euros 0.8 rate to sterling
Includes May Gurney results for the year to Mar 13
Amey bought Enterprise in April 2013. The turnover figure represents both the revenue from Enterprise since acquisition, and also pro-forma earnings for the 2013 year prior to acquisition. The comparison is with Amey and Enterprise's combined revenues in 2012
Pro forma combined with Miller Construction
Includes Bam Construct and Bam Nuttall
Figure combines Bouygues UK, Colas, Colas Rail, Warings, Leadbitter, and Thomas Vale. The firm has been unable to supply comparative figures for 2012
Accounts are for parent company Newarthill
UK operations only
Pro forma numbers assuming sale of construction business to Galliford Try
Combined with Banner Homes
(Civil Engineering)

Methodology
The data in these tables is provided to Building by construction data firm Barbour ABI and is based upon the most recent accounts filed for each of the relevant companies. Housebuilders, building main contractors, civil engineering contractors, fit-out contractors, other subcontractors and "hard" FM/building services management companies have been included. Where firms are owned by international companies, then the data is from the relevant UK subsidiary business/businesses. Data for the sectoral breakdown of turnover has been included where supplied. Any queries over the data should be directed to Barbour ABI. To contact call 0151-3533 500, email info@barbourabi.com or visit barbour-abi.com