New research into the housebuilding industry shows that although staff are enjoying higher salaries, they're also taking on more responsibilities, working longer hours and finding their work/life balance out of kilter.
After receiving bumper bonuses to match a year of bumper growth in 2013, housebuilders' senior managers now seem to be paying a personal price for their success.
Research conducted by the recruitment firm PSD Group for Building found that while people in director-level positions are this year earning more than last, they are also working longer hours, shouldering more responsibility and seeing their work/life balance unsettled.
But what is the extent of these pressures and how do they fit into the wider picture of the jobs market?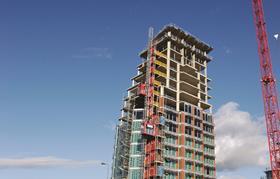 The research reveals salaries for directors working in the housebuilding sector - finance, development, land and planning, technical, design, commercial, construction, sales and marketing, and managing directors - increased by an average of 5.5% in the past year. Bonuses increased even more quickly, with the average bonus as percentage of salary climbing to 72%, from 67% in 2013.
Over the same period, 57% of senior managers took on additional responsibilities and 36% saw their working hours increase. This is a noticeable rise on the figures for 2013, when 35% were affected by extra responsibilities and 19% by increased hours. Just over half of them - 53% - feel they are working longer hours than last year.
It is perhaps unsurprising, therefore, that a growing proportion of directors say their professional lives are impacting on their personal ones: 42% feel they do not have an acceptable work/life balance, compared with 25% two years ago.
The results back up what Mark Heald, director at PSD Group, and his team are seeing, as housebuilders ask more of their employees while paying them more. "There are certain companies that remain unnamed but are notorious for understaffing - an equal department in a different business would probably have another 15-20% more people in it," he says. "We get calls from people who say 'You've got to get me out of here, I'm not getting home until 8pm or 9pm every night because we're so understaffed.'"
A total of 82% of senior managers surveyed have seen an increase in development projects produced by their company over the past year. PSD's Heald thinks work/life balance will only get worse as companies plan to do more. "When developers start to re-open offices, they'll hive off people from existing regional offices to do that as well as recruit externally, so that's going to create less slack in the system as well," he adds. He says firms, which are bumping up salaries because they are "petrified to lose good quality people", also need to look at other incentives to attract and retain staff.
Benefits offered by housebuilders include increased car allowances, long-term incentive plans on top of bonuses, options to buy extra holiday and sell back unwanted days, and subsidised rent for graduates.
"Companies are focusing more on the softer side because they realise that they can't rule with a rod of iron - people will just up sticks and move somewhere else," says Heald. Companies are aggressively targeting workers from other developers, he says, and staff have more confidence in the market to move.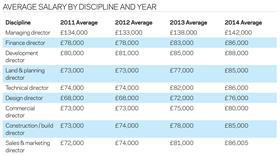 A third of directors (33%) have been in their roles for less than a year, while 86% have noticed an increase in the number of opportunities within the residential sector in 2014. "There are many more jobs out there than there has been for a number of years so people have much greater choice," says Alan Brown, chief executive of Cala Group.
The housebuilder, which Brown says is almost doubling in size this year, has seen its staffing level - excluding the acquisition of Banner Homes in March - increase by about 100 people in the past 12 months. "We're not finding it difficult to recruit really good people and a lot of that is down to the fact Cala is seen as a great place to work," he says. Brown says the 650-strong company is nonetheless losing some staff, as he would expect of a company of its size. But he adds: "We have a policy of recruiting constantly so that we're always refreshing people and keeping the talent pool moving."
PSD's research, which involved an attitudinal study targeting about 5,500 senior managers and data from placements it made, reveals the salaries of construction and land and planning directors performed ahead of the average 5.5% rise, increasing by 9% and 10% respectively. Heald says some disciplines that "hadn't caught up" with others in terms of earnings have done so and there is more parity across the disciplines. There has also been a "readjustment" for finance directors, whose bonus as a percentage of salary leapt from 45% to 66% in a year.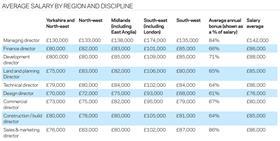 This levelling out across the disciplines could explain why some directors, who enjoyed substantial increases to their bonuses last year, have seen their pot frozen or even decrease this year. The average annual bonus achieved by design directors as a percentage of their salary remains at 61%; land and planning and technical directors have seen their bonuses drop by three and two percentage points respectively.
The drop for technical directors is perhaps surprising considering 50% of directors perceive there to be future gaps in technical experience and skills within their organisation, and 32% consider skills shortages to be the biggest threat to the housebuilding market. Cala's Brown agrees surveying and technical is a "particularly challenging" area for recruitment but says the firm has had a long-term strategy to address that by employing graduates, so it is always training people up. The firm is looking to increase its graduate recruitment and its apprenticeship programme to cover trade shortfalls on some sites.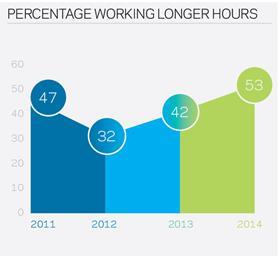 Looking ahead, Heald says that after five years of downturn when many people left the sector or retired and many who would otherwise have come into the sector did something else instead, developers will need to be as "open-minded as possible" about recruitment and look to bring in people from outside the sector.
Confidence in the market remains high: 94% of directors say it has increased in comparison to 2013. In addition, 84% anticipate growth in their business in the first half of 2015, with 91% predicting growth for the first half of 2016.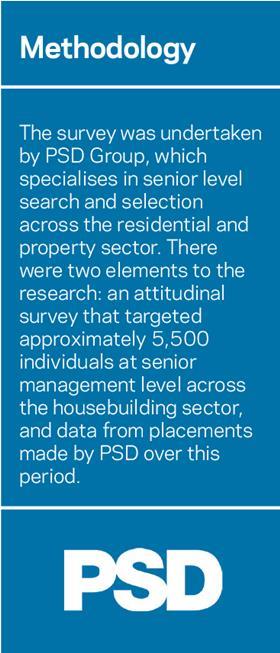 However Tony Williams, of housing analyst Building Value, predicts that while housebuilders will enjoy "another fat year" this year - because they are selling more houses and have largely worked through expensive "pre-recession" land, pushing margins up - the rate of growth will start to slow, impacting on future salary growth. He suggests the interim statement released by Barratt Developments earlier this month can be viewed as a "microcosm of the industry". It said that earnings growth will halve a year out, from 36% this year to 19%, and again a year after that, from 19% to 8%.
"There are going to be a lot more houses built in the UK […] but I think in terms of profitability, costs are rising, house prices may not rise as quickly as they would have, there's a bit of labour shortage around [and] they [housebuilders] are having to buy more expensive land," says Williams.
He suggests slower growth, combined with concerns about where the industry and economy are headed, will lead to a "much more normal" jobs market in 2015, as the "silly money" being paid to lure people away to new businesses peters out. It remains to be seen whether this slowing growth will help restore a better work-life balance for housebuilder staff.