As Carillion and Interserve have shown, being a high-turnover company is no guarantee of success, stability or even solvency. So how will the current top players ensure they survive to earn a place on next year's table?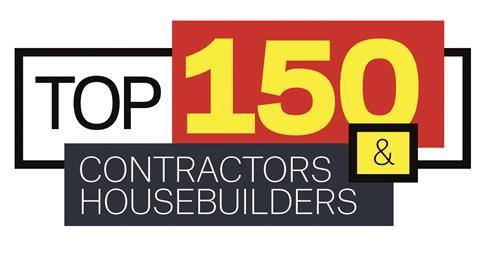 Given all the recent turmoil in the world of contracting, you might have expected to see a vastly different Top 150 this year to last, with big names dropping away and insurgents elbowing their way up the league. Well – sorry to disappoint – there's nothing quite that dramatic to report.
Despite well-reported woes at Galliford Try and Kier, and last year's fifth-placed firm, Interserve, suffering a pre-pack administration as its debts threatened to overwhelm it, there are only minimal changes in the top 10. Interserve, now reborn as a privately-owned business, slips just one spot to sixth place in the tables – which rank contractors and housebuilders by turnover – while Laing O'Rourke, last year's number seven, falls out of the top 10 entirely, courtesy of a £250m drop in revenue. O'Rourke's space is taken by housebuilder Bellway.
"I'm not worried about turnover, it's about profit. Our margin will go up significantly"

Mark Reynolds, Mace
But for most of these businesses, it is in truth not the minutiae of who's up and who's down (see Who's up and Who's down, overleaf) that is focusing minds in the boardrooms. For contractors, the experience of Carillion, Interserve and now Kier mean debt and cash are the most important topics – some distance above turnover – while the government is also forcing fair payment onto the agenda.
Meanwhile, housebuilders, which have ridden a Help-to-Buy fuelled wave of growth for more than half a decade, are looking ahead with some degree of uncertainty for the first time in years, not least to the ending of the £11.7bn support package from 2023. What does the data tell us about how well placed these industries are to weather these challenges?
Getting better?
Largely, this year's tables further reinforce the long-term trend of growing dominance by housebuilders. Whereas 10 years ago there were just two pure housebuilders in the top 10 firms, now there are five. Many, such as Bellway and Persimmon, have seen turnover more than double in the last decade, while the 10 biggest housebuilders this year reported pre-tax margins on average more than 10 times higher – at over 18% – than the equivalent-placed contractors.
However, the data does show some chinks of light for contractors. Turnover for Top 150 contractors reached £63bn, a rise of 3%. But recent high-profile failures mean firms and their customers appear less and less focused simply on size. Mark Reynolds, chief executive of third-ranked contractor Mace, which reported bumper revenue growth to £2.4bn this year, says he is relaxed about the fact turnover will fall "quite significantly" for the firm next year. "There was a bit of a spike in our last year from our international business and data-centre contracts, and this year will be less. I'm not worried about turnover, it's about profit. Our margin will go up significantly."
"It's not disastersville. But the consensus now is there'll be no earnings growth this year and next – and the risk is it might begin to fall tony williams, building value"

Tony Williams, Building Value
The tables show margins did continue to slowly recover in the last year, hitting 3.2% on average across the 94 contractors in the table. But the biggest firms seem once again to have the biggest problems – even if not everyone is reporting the losses seen at Interserve or Laing O'Rourke. Mace's Reynolds, for example, blames "challenges on a couple of projects" for the fact it reported just 1.4% pre-tax margin this year.
Tony Williams, managing director of analyst Building Value, says: "The big issue is that pricing has not properly recovered since the global financial crisis, and until it does the industry will be decimated." Overall, the margin for the top 10 contractors was a paper thin 1.6%, up slightly on 1.3% last year, but way below the nearly 4% for those ranked 50 and below.
One former chief executive of a listed contractor, now an adviser, blames this disparity on the sheer size of these businesses, saying this makes it much harder for their bosses to have a grip on the position of individual projects. "The more tiers of management there are, the more capable these businesses are of deluding themselves that things are OK, and that's where problems develop."
Who's up?
ISG – The contractor and fit-out specialist has become a bit of a poster child for the benefits of not being listed on the stock exchange since being taken private by US investment firm Cathexis in 2016. Turnover was up 31% this year, breaking the £2bn barrier, and is up 68% in the last two years. Pre-tax margin remains paper thin, at 1.2%, but is nevertheless three times the margin reported the year it went private.
Countryside – The listed housebuilder has demonstrated the benefits of a blended model in the current uncertain market, with 65% of the homes it builds either in partnership with affordable housing providers or for the private-rented sector. This enabled it to report turnover growth of more than 20% last year, at a pre-tax margin of 18%, while expanding house sales by more than 25%.
J Reddington – The former concrete specialist has benefited both from the dropping away of established players in that sector – PC Harrington, John Doyle, Dunne Group – and its own expansion into groundworks, demolition and even main contracting work through subsidiary MidGard. Turnover jumped 50% to £240m last year, at a 4.4% pre-tax margin.
Cash and debt
This is unfortunate given concerns that workload may have peaked in the short term, largely due to Brexit anxiety, and as illustrated by Costain's recent profit warning. The latest new orders figures show orders for housing and infrastructure work, the mainstay of recent workload, starting to tail off, with the latest Purchasing Manager's Index falling to its lowest score in a decade. Mace's Reynolds says it is in part a Brexit effect. "Clients are being more choosy about when and where they start work, while at the same time funders are more choosy about where they invest," he says.
Despite this, some way above workload and even margin in the priority list for contractors is, of course, cash and debt. There is no doubt investors and customers alike have been seriously spooked by the collapse of Carillion and Interserve and the problems at Kier, visible from the punishment meted out to Costain's share price – it collapsed 43% – after it announced a modest profit warning late last month.
Kier admitted in June that some trade credit insurers have stopped supporting it, meaning some of its suppliers are even demanding payment in advance. Sector analyst Alastair Stewart says: "There's an unbelievable lack of faith in the sector. It's all about who's got debt and who's not."
Morgan Sindall, for example, has taken to reporting daily cash figures in attempt to allay concerns. Aynsley Lammin, building analyst at investment bank Canaccord Genuity, says: "Customers and subcontractors want to be able to trust that these businesses will be an ongoing concern," while Building Value's Williams simply says: "For contractors, survival is the big issue."
This focus means that those firms without debts are doing everything they can to advertise the fact. Graham Dundas, finance director at debt-free Willmott Dixon, the 13th largest contractor, says potential customers are "100%" asking far more questions about financial strength. "We're cash-rich and our balance sheet is debt-free," he says. "It's a key differentiator for us."
Growing government pressure for prompt payment is adding to the pressure on cash-poor contractors, as any attempt to pay subbies more quickly sucks up available cash. Stewart says: "If you're used to sitting on a client's cash and paying your suppliers more slowly, then even a small swing in this rate and you start haemorrhaging cash." As Kier has been forced to start paying more quickly, for example, it's promise of getting to a net cash position by June has turned into an expectation of a £195m deficit.
Unsurprisingly, of course, this issue too is becoming a selling point for those in a more fortunate position. Mace's Reynolds advertises the fact that his business has reduced its payment times from 43 days to 30 in the last year, while Willmott Dixon's Dundas says its record on prompt payment helps keep nervous subcontractors on side. "We're in a world where the supply chain has a choice, they're much more aware of payment terms and the cash cycle."
It is also self-protective, he says, because he sees subcontractor collapse as one of the key risks faced by his business. "It's our biggest concern. With the failure of some tier 1 [contractors], a new VAT regime and pressure on workload, it's a bit of a perfect storm potentially for suppliers," he says. "They're going to have to take the lion's share of risk on the Brexit shambles too, with fixed-price orders."
Who's down?
Interserve – The figures here represent the period before the contracting and support services giant fell into a pre-pack administration after failing to convince shareholders to support its refinancing. The business was laid low by a series of problem jobs, centred on energy-from-waste PFI deals, which saw the business report consecutive losses totalling £450m over the last three years. The business last year made a £111m loss on turnover down 12% to £3.2bn.
Byrne Group – The biggest proportionate fall in turnover in this year's Top 150 was reported by concrete frame specialist Byrne Group, at which revenue fell by 57% to £139m, down from £322m. The firm reported a loss of £8.2m, which it blamed on delays to the commencement of a number of significant contracts.
Laing O'Rourke – This is the first time since O'Rourke's £1 buyout of Laing in 2001 that Laing O'Rourke hasn't featured in Building's top 10. This fall is testament both to its own recent difficulties and the stellar growth of the housebuilders, who now occupy five of the top 10 places (six if you count Galliford Try). O'Rourke this year reported a loss of £44m on turnover down 8% to £2.9bn. It has now reported consecutive losses totalling more than £350m in the last three years.
Disastersville?
In comparison to the state of play for contractors, the housebuilders at first glance appear to be happily occupying the sunlit uplands. No surprise: turnover among the 45 featured has grown more than 50% in the last three years alone. But even here there are reasons for caution. Evidence from recent housing starts figures appears to show that build rates are at or near peak in the current cycle, with Persimmon, for example, recently announcing a fall in completions for the first half of this year, its first for a decade.
For the first time in years, the Top 150 reports a (very slight) fall in average pre-tax margin for the housebuilders, from 14.7% to 14%. Williams says this is probably the best the market can expect for the next couple of years "It's not disastersville. But the consensus now is there'll be no earnings growth this year and next – and the risk is it might begin to fall."
Some, such as Countryside, are still showing significant growth (see Who's up, left), but generally only where they occupy a specific niche – partnership housing with local authorities and housing associations in Countryside's case. Chief executive Ian Sutcliffe says the general market, beyond Help-to-Buy-fuelled first-time buyer sales, is sclerotic. "The area that is most struggling is where people are trying to trade up. It's not that they don't want to buy, it's that they're struggling to sell in a second-hand market that hasn't had the investment from Help to Buy. It's really had the brakes put on."
These concerns are reinforced by the imminent curtailing of Help to Buy, which according to government figures has boosted housebuilding by around 15%, in 2021, and its cancellation in 2023. But with the likes of Berkeley making £210,000 in profit for every house it sells, and the rest of the industry commonly between £50,000-£65,000, there is room for margins to tighten.
Hence housebuilders, largely debt-free, are confident they can ride out a modest downturn. The top issue for many is build quality and customer service, following pressure over historic failings at Bovis and perceived low standards at Persimmon. "Product quality and customer care is more at the forefront than for a long time," says Canaccord Genuity's Lammin. "It's the biggest issue. Bovis has shown how getting it wrong can affect the bottom line."
All in all, life is a lot less do or die for housebuilders than contractors – and without major industry reform it is hard to see how that is likely to change.