Exclusive: Contractor fails to agree contract value for Watford shopping centre extension with client Intu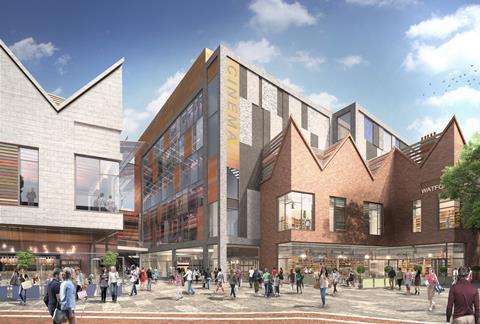 Bam has walked away from a £100m town centre retail scheme in Watford after failing to agree a contract value for the main contractor role with client Intu, Building can reveal.
Bam Construction was initially appointed to a pre-construction role on the scheme – the extension and renovation of Watford's Charter Place shopping centre – in September 2014, as part of a two-stage tender for the main job.
But this week Bam confirmed it had parted ways with Intu on the project after failing to agree a contract value for the second stage main construction works.
A spokesperson for the contractor said: "Bam confirms that, unfortunately, we were not able to reach agreement on a contract value with Intu. Our negotiations concluded amicably and we hope very much to have an opportunity to work with Intu in the future."
A spokesperson for Intu said Bam had completed the works for which it had been contracted – "develop[ing] the designs for the Intu Watford extension" – and "our contract with Bam has therefore come to an end".
The Intu spokesperson added: "We are in the process of reviewing our project plans, including options for the appointment of a contractor to undertake the works.
"We fully expect the project to keep to the existing timescales, and look forward to creating a vibrant retail and leisure destination for our millions of customers."
At the time of Bam's appointment last September, the contractor said its role was "initially to develop the designs" for the project, and its contract included "demolition of the old precinct, the refurbishment of the existing car park block as well as a substantial element of new build including a feature canopy roof over a public square".
Intu intends to create 1.4 million ft2 of retail, dining and leisure space under the overall scheme.
The new two-level shopping centre will house a 40,000ft2, nine-screen, 1,500-seat Cineworld cinema, with Imax screen, and a new public square will also be created.
The scheme forms part of Intu's intended pipeline of £1.2bn of investments over 10 years.
INTU and BAM have agreed to go our separate ways on the Charter Place scheme in Watford.
Update 06/07/15
Bam has issued a further statement: "Bam worked tirelessly to get under the skin of the project, and to survey and mitigate its risks.
"We negotiated in good faith and with great diligence, and consulted our supply chain closely, but ultimately we could not reach agreement with INTU on a sum that reflected an agreed view of the market and the management of risks.
"We wish INTU every success in developing the scheme."