Laing O'Rourke replaces Bam on Intu's Watford shopping centre revamp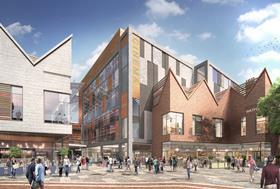 Laing O'Rourke has replaced Bam as the first stage contractor on developer Intu's planned £148m revamp and extension of its Watford shopping centre.
Building understands Laing O'Rourke has signed a pre-construction agreement for the scheme, while Keltbray has entered into an agreement with Intu for demolition works to make way for the extension. Intu declined to comment.
The news comes after Bam parted ways with the scheme in July, after saying it had completed the pre-construction stage, as part of a two-stage tender for the main job.
Intu subsequently revealed later that month in its half-year results that the cost of the scheme had jumped 48% to £148m, up from its original estimate of £100m. Building has no knowledge to indicate whether or not the cost is still £148m.
In July Intu ascribed the jump in project costs to "cost inflation" caused by booming demand in the nearby London market and a "re-defined" scope for the works, which now includes "existing mall refurbishments and improved ancillary services, such as upgraded car parks".
Bam said at the time that "ultimately we could not reach agreement with Intu on a sum that reflected an agreed view of the market and the management of risks".