Contractors and the government have agreed to pay all suppliers within 30 days from 2018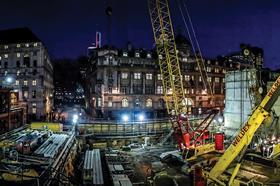 Major contractors, clients, and the government have agreed to pay all suppliers within 30 days from 2018, under a deal struck through the Construction Leadership Council.
The members of the Construction Leadership Council (CLC), which includes the bosses of main contractors Laing O'Rourke, Kier and Skanska, as well as clients such as Sainsbury's, Berkeley Group and British Land, have been thrashing out a payment charter to try to solve the problems of long payment terms and late payment that have dogged the industry for years.
The agreement commits clients and main contractors who sign up to the charter to pay all suppliers within 60 days immediately. This would then be reduced to 45 days from June 2015 and to 30 days in January 2018.
The voluntary charter, the full details of which will be unveiled later this month, also contains a commitment to work towards the abolition of retentions by 2025, when the Industrial Strategy for Construction is due to be completed.
But sources close to the negotiations said HS2 chairman Sir David Higgins, who jointly chairs the CLC with business secretary Vince Cable, remains keen to get retentions - where main contractors or clients hold back up to 5% of the contract value to ensure defects are addressed - abolished before then.
Other measures in the charter include a commitment to not withhold payments and make all payments electronically.
Any organisation that agrees to the charter will be monitored against a set of key performance indicators. Philip King, chief executive of the Institute of Credit Management, will lead work on developing the details of the monitoring arrangements.
Although voluntary, it is expected that many large contractors and clients will sign up to the charter for fear of losing the best subcontractors to firms which pay on better terms.
The issue of payment has been a hot topic over the last 12 months - Carillion extended its payment terms to 120 days as part of a controversial supply chain finance scheme, while a cross-party parliamentary inquiry concluded that construction firms are among the "worst offenders" when it comes to paying late.
Balfour Beatty, Kier and Willmott Dixon (see story right) have all launched early payment schemes in an effort to ease to problem.
The charter comes ahead of a consultation from government on legislation to improve payment practice across all sectors, expected later this month, in response to the parliamentary inquiry.