Specialist contractors set out their vision for enforcement of the construction payment charter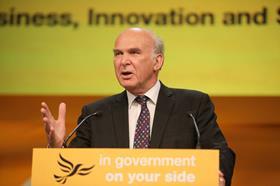 Specialist contractors have urged Vince Cable to pressure the construction industry's top 100 clients to sign up to the Construction Payment Charter, published earlier this week.
The charter commits clients to stop holding retentions payments – a practice where clients usually hold around 5% of the total contract value to ensure against the cost of fixing any defects on their jobs.
Signatories to the charter also commit to ensuring their supply chain is paid within 60 days from the day they sign, 45 days from June 2015 and 30 days from January 2018.
Clients British Land, Berkeley Group and Barratt Developments, all of whom are members of the Construction Leadership Council that drafted the charter, have already signed-up to its commitments.
The charter has been hailed as a step forward for payment practice in the industry, which has historically been one of the worst industries for prompt payment.
Now, the Specialist Engineering Contractors' (SEC) Group has called on the business secretary to write to the sector's top 100 clients and ask them to sign the charter.
Rudi Klein, chief executive of SEC Group, said that having agreed the charter it was "paramount" that the focus should shift to "enforcing compliance" with it.
He added: "We do not want this charter to become, yet another, wasted initiative."
The Construction Leadership Council, which drew up the charter, is in the process of forming a group to agree the benchmarks and methods for monitoring and enforcing it.
In a statement following the charter's launch SEC Group listed a set of enforcement methods it wanted to see used to ensure the charter was effective.
It said signing the charter should be a pre-requisite for all public work contracts; a red and yellow card system should be used to enforce compliance; it should be overseen by an ombudsman; and firms failing to comply should be banned from public sector work for two years.
It added that project bank accounts – where all members of the supply chain are paid from a central account – should be used on all public sector contracts and in the utilities sector.