Football club's expansion plans would bring Liverpool stadium's capacity close to 60,000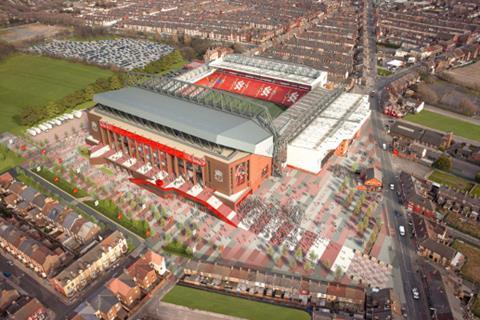 Liverpool football club has unveiled its design for its stadium expansion plans which would take total capacity to nearly 60,000.
It intends to extend the main stand and the Anfield Road stand at its Anfield stadium.
The plans include a first phase adding 8,500 seats to the main stand to bring Anfield's total capacity to 54,000; a two storey podium containing the club's memorial to the people that died in the Hillsborough disaster; and a wide public concourse linking the stadium to the local area.
Under the second phase of the scheme, the Anfield Road stand would be expanded by 4,800 seats, taking the total capacity to 58,800.
If the plans are given the green light by Liverpool council, construction on the extension of the main stand will start in early 2015 and is due to complete in time for the start of the 2016-17 season.
Ian Ayre, Liverpool FC managing director, said the plans were "ambitious".
He added: "We started this journey just over 18 months ago and a lot of work has already been done, there is still an incredible amount to do, but good progress has been made so far and we are proud to be able to unveil our plans."
The football club will consult on its plans with local residents, fans and local businesses from this week.