Contractors appointed to frameworks to improve London North West and East Midlands routes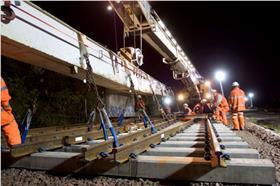 Contractors Carillion, Skanska and VolkerRail are among nine firms that have scooped a place on frameworks worth a total of £1.6bn from Network Rail.
The firms will do earthworks, civil engineering, building work and electrification work on the London North West and East Midlands routes of the rail network.
The frameworks form part of Network Rail's £38bn investment in the railways over the next five years.
Network Rail's infrastructure projects director Rob Offord said the award of the frameworks was "a significant milestone in the implementation of our new procurement and contracting strategy".
He said: "This [the contracting strategy] will bring improved safety, whole-life cost efficiency and delivery performance through collaborative relationships with a consolidated and strategically aligned supply chain."
The awarded suppliers are: Amalgamated Construction Limited, Amey, Buckingham Group Contracting Limited, Carillion Construction Limited, J Murphy & Sons Limited, Miller Construction (UK) Limited, Skanska Construction UK Limited, Story Contracting Limited and VolkerRail Limited.
Framework agreements for projects of £4.3m to £100m
Railway Engineering
Civil Engineering
Buildings
Region
Supplier
Lot value
Supplier
Lot value
Supplier
Lot value
East Midlands
Carillion
£348m

Amalgamated Construction

J. Murphy & Sons

£246m
Miller Construction
£127m
London North West -South
VolkerRail
£100m
Skanska Construction UK
£85m
Buckingham Group Contracting
£60m
London North West -North
VolkerRail
£110m
Buckingham Group Contracting
£40m
Miller Construction
£40m
Framework agreements for projects up to £4.3m
Structures
Earthworks
Property

Electrification and Plant

Region
Supplier
Lotvalue
Supplier
Lotvalue
Supplier
Lotvalue
Supplier
Lotvalue
London North West -South
Amalgamated Construction Ltd
£57m
J. Murphy & Sons Limited
£53m
J. Murphy & Sons Limited
£57m
Amey
£36m
London North West - North, South
J. Murphy & Sons Limited
£68m
J. Murphy & Sons Limited
£29m
Amalgamated Construction Ltd
£42m
VolkerRail Limited
£61m
LNW North, North
Story Contracting Limited
£21m
Story Contracting Limited
£46m
Story Contracting Limited
£17m